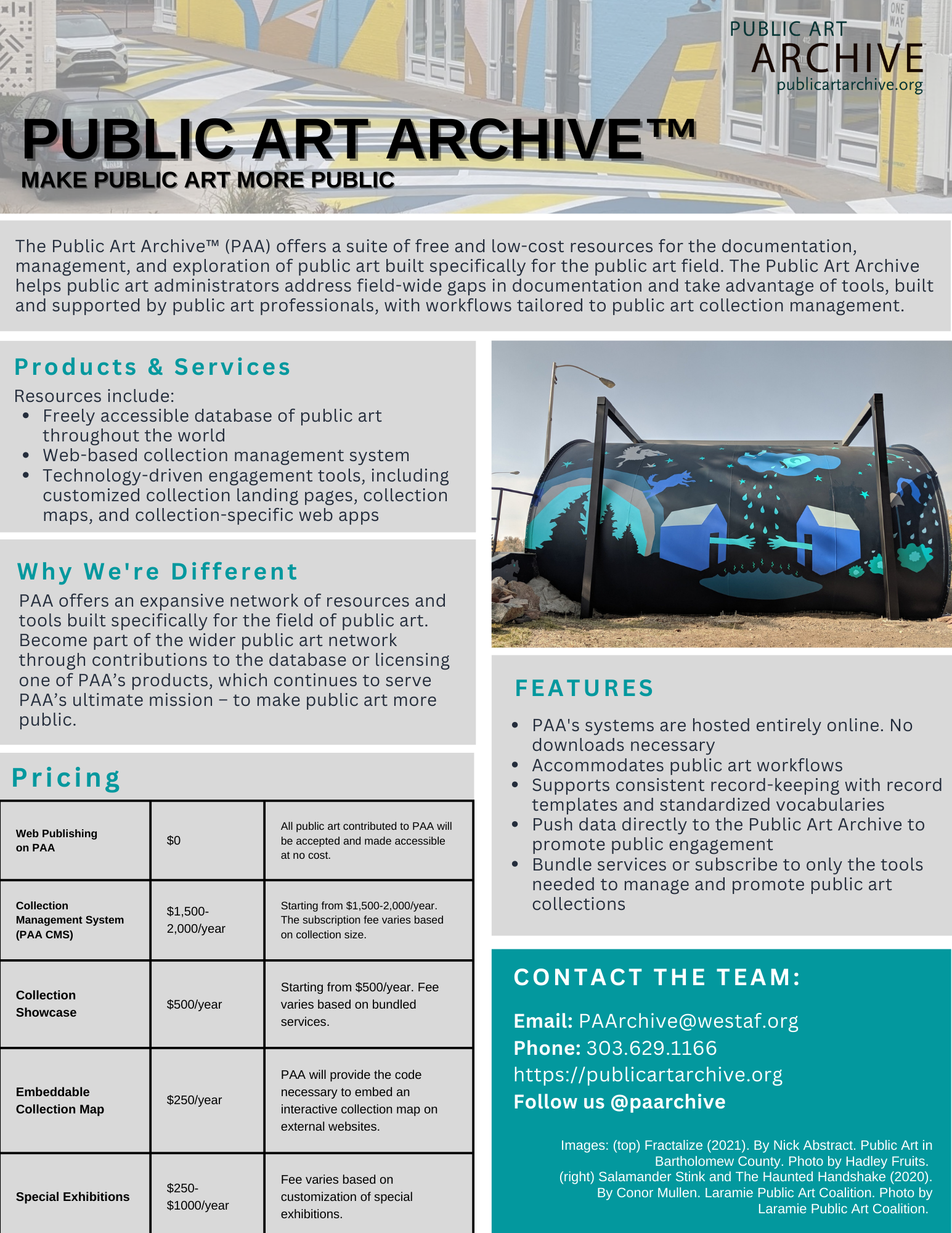 Learn more about our Products & Services:
Developed with the mission of making public art more public, the PAA provides free and low-cost resources for the public art field. Built for artists, administrators, consultants, planners, educators, and researchers, audiences of all ages and backgrounds can engage with our services.
Free Resources:
Public Engagement Portal & Database: The Public Art Archive is a free, continually growing, online and mobile database of completed public artworks. By uniting records from public art organizations and artists into one comprehensive resource, the Archive aims to raise awareness about the value of public art and help make it possible for stakeholders to advance the professionalism of public artists and practitioners in allied fields. Use of and contributions to PAA are entirely free of charge. See our submission guidelines for more information.
Digital Exhibitions: Our Special Projects and Digital Exhibitions offer the opportunity for anyone to take a deep dive into curated projects and temporary exhibitions from across the United States.  
Public Art In Private Development Database: The PAPD Database is a dynamic collection of official ordinance documentation and other supporting materials created by communities across the United States pertaining to public art in private development programs. It is an invaluable resource for municipalities, developers, transportation hubs, art consultants, and any others involved with the implementation of public art for private development programs for their communities.
Low-Cost Products & Services:
Collection Management System: The Public Art Archive's web-based collection management system was developed in collaboration with technology partner CollectionSpace to capture the public art workflow. Our CMS is the only software built specifically for the management and administration of Public Art collections. Public art organizations can subscribe to the system for a low-cost annual fee to manage their public art collections from the commission of the artwork through conservation. WESTAF hosting services include maintenance, security, back-ups, customer service, upgrades, and data migration.
Technology-Driven Tools for Sustained Engagement: 
Collection Showcase Pages: The Public Art Archive offers Collection Showcase pages that work as customized landing pages to build access and exposure for public art collections. Collection Showcase pages are built by the PAA team in direct collaboration with the public art organization that subscribes to this feature. Showcase pages include interactive collection maps that can also be embedded on external websites, contextual information about the organization and the public art program, featured artworks, slideshows, links to artwork collections on PAA, and many other customization options.
Embeddable Interactive Collection Maps: Organizations and artists can leverage PAA's interactive mapping technologies by subscribing to the Collection Map feature. For a low annual fee, the PAA team will provide an embed code that can be coded  into external websites/webpages. Map content will link back to collections and artwork records on the Public Art Archive and update automatically as data is updated and edited on PAA. 
Special Projects: From custom reports to virtual exhibitions and experiences, the Public Art Archive is here to help you sustain engagement with your collection and programming. We work with you to bring your collections to life in digital space, helping tell the stories of your artworks and inviting the public to engage with the history, context, and meaning behind your special projects.