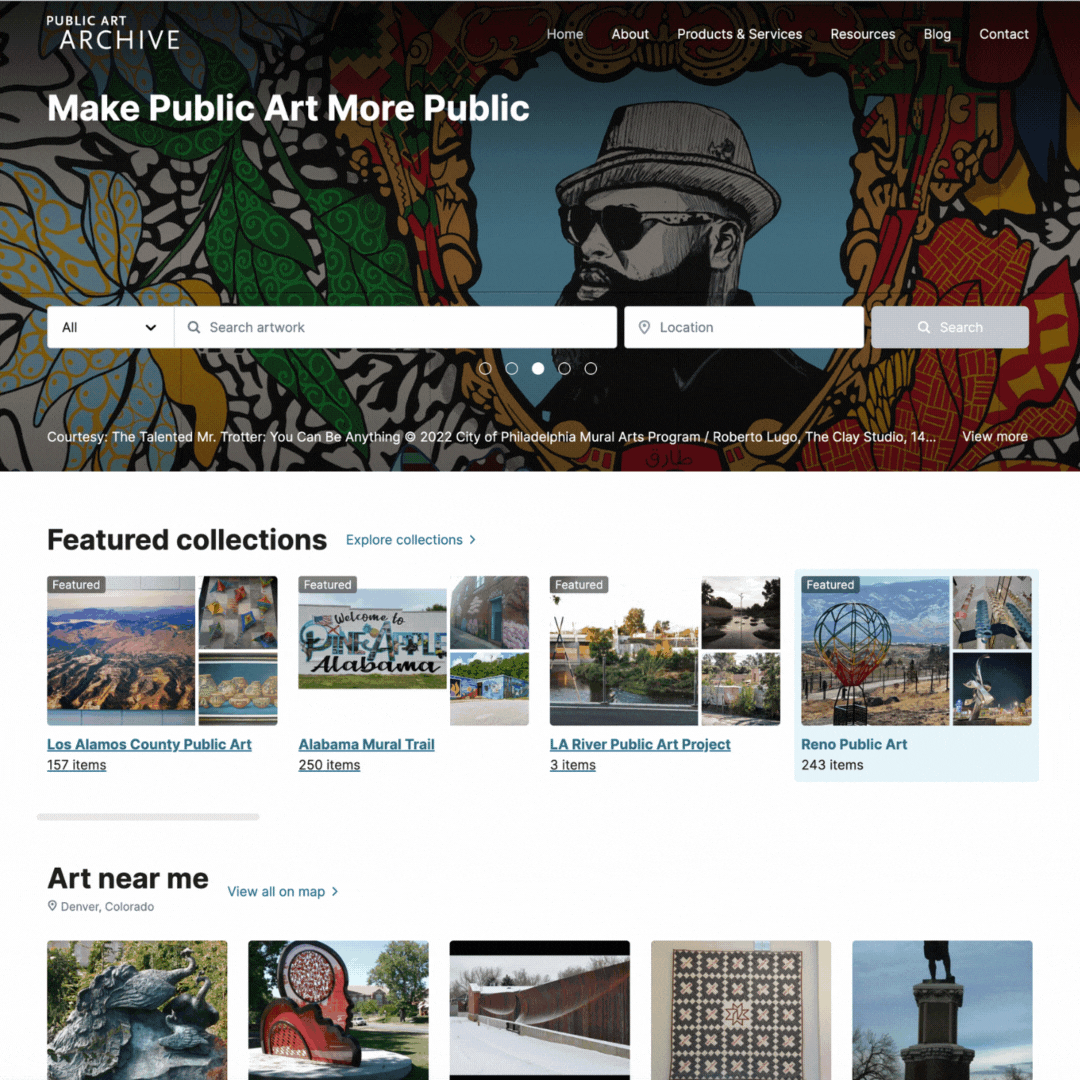 We are thrilled to announce the launch of WESTAF's reimagined and expanded Public Art Archive™ (PAA) website!
With this new immersive experience, we hope to make the PAA the go-to digital destination and ultimate public art resource for everyone — from art curators, historians, researchers, and urban planners to casual users like public art enthusiasts and cultural tourists. Originally created in 2010 with the mission to make public art more public, the redesign of the PAA website focused on increased accessibility and user-friendliness, making the discovery of the history, context, and meaning behind each of our 20,000+ artworks easier and more engaging than ever.
Designed by Bilberrry, a full service digital agency and product studio behind websites such as David's Bridal and GoFundMe.org, the new site provides an immersive public art experience to better facilitate sustained public engagement with cultural assets across communities. The new engagement portal offers powerful searching tools, featured content, new ways to discover art near you, and even a 'surprise me' feature for browsing or learning about public art—all delightful and individualized new ways to uncover the endless content contained within the PAA. The redesigned site is built for all users, whether they're looking to browse or are seeking specific content.
Here's a list of what's new:
A prioritized art discovery and public engagement experience. The new app places the experience of discovering and exploring public art at its forefront, making it even easier for a worldwide audience to search public art collections and glean insights into cultural tourism, arts education, and public history  We have also significantly increased the accessibility and user-friendliness of the public engagement portal and have integrated smart searches that can help with more in-depth searching.
On-the-go accessibility. The new public facing platform is entirely device-responsive, allowing users to explore collections from their desktop, tablet, and mobile devices.
Location-based public art suggestions. Users will easily be able explore nearby artworks and other artworks from your collection directly from artwork detail pages to help improve continuous engagement with your collection.
Modernized collection maps and search results. As public art collections have grown, we have prioritized a more user-friendly collection map that more elegantly displays areas where artworks are abundant. To optimize the visual experience of exploring collections, all search results will appear in a grid view with more intuitive ways to filter and sort results.
Exclusive access to artworks not on view. The engagement portal allows the public to toggle between all artworks that are part of your collection and hide artworks that are no longer on view. This is especially beneficial for artworks in storage, those that have been removed, and/or artworks that were only available temporarily.
Improved artwork detail pages. Artwork record pages have been modernized and revamped to improve the visual experience, and we have optimized the way media, video, audio, and PDFs display for public engagement.
Stayed tuned to the blog in coming weeks as we dive into the details of some of PAA's new features!
As one of the largest active databases of public art, we have crafted a visually stunning experience designed for people who want to appreciate public art and find meaningful ways to engage with it. With 20,000 artwork records to explore, we invite you to dive into the new Public Art Archive. Discover the multitude of artworks spanning lived experience, geographic boundary, subject matter, and worktype in this centralized resource where street artists are presented alongside prolific sculptors and ephemeral experiences in company with traditional monuments, in your area and beyond.