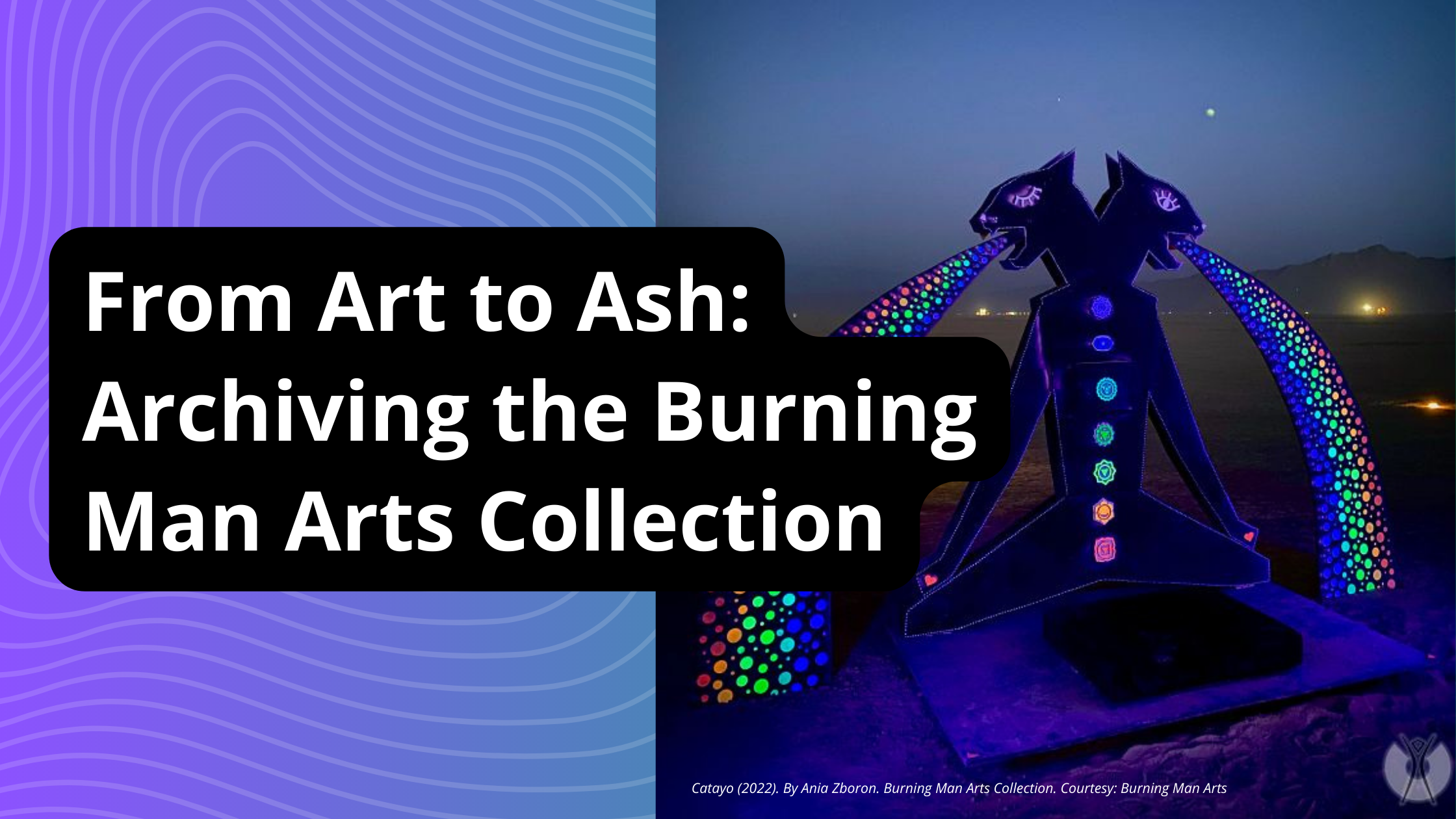 When we think of public art, we often focus on tangible experiences — the monuments, murals, and sculptures that act as landmarks in public space. We create maps driving visitors to those artworks, plan community events around them, and assume their permanent physical presence is a given. But what about those artworks that existed for only a brief moment within the landscape and are no longer there? If an artwork disappears in the physical sense, does its impact also disappear or diminish? How can the thrill and wonderment of these ephemeral experiences be archived and shared to inspire new audiences and preserve cultural memory?
For over 30 years, the Burning Man project has brought thousands of people together annually to create and celebrate art, self-expression, community, and radical self-reliance in the Black Rock Desert of Nevada. An integral part of the event is the creation of innovative artworks, often of monumental scale and complexity. Each year dozens of stunning, cerebral pieces exploring themes of wonderment, psychology, and social concerns like climate change are erected on the playa, standing boldly surrounded by miles of stark desert landscape. This immersive display exists for only a brief moment, but its impact is lasting. The growing Burning Man Arts Collection on the Public Art Archive (PAA) offers a glimpse into this micro-world, built upon its own economy, community, and experience, relinquished after a few short days, and rebuilt year after year. 
PAA is proud to invite you to discover, time travel, and immerse yourself in over 400 artworks from artists of all persuasions who have brought their visions to life on the playa over the years. The Burning Man Arts Collection provides a significant opportunity to explore questions about the relationships between public space, cultural memory, physical presence, and archival experiences and to dive deeper into the identity of PAA as an archive, capturing the history of and bringing new life to temporary, ephemeral art experiences in hopes of sharing a part of this unique event's participatory, creative spirit in perpetuity.
What Happens to Artworks After Burning Man?
When Burning Man concludes, what happens to the artworks that graced the playa? A number of artworks created for Burning Man are constructed and engineered according to the same principles as long-standing works of public art. Over the years, some of these artworks have become part of public art collections across the U.S. and are being experienced and appreciated by new audiences. Below are a few examples of works that have found new lives as part of public art collections: 
Do you have any information about Burning Man artworks that have been relocated? Help the Public Art Archive bring visibility to these artworks by sharing with us!
For most Burning Man artworks, however, their presence in physical space is fleeting. They may be burned at the event, stored, or housed in their owners' private collections. Archiving these projects on PAA ensures that the memory and impact of these briefly extant artworks can be preserved and appreciated by both familiar and new audiences.
Perspectives on Life and Art on the Playa
At Burning Man, all are welcome to participate in an event that brings together immersive art experiences and off-grid living. From the participants to the artists, performers, musicians, and the art itself, radical inclusivity is one of the ten principles of Burning Man. This unique and diverse event attracts people from all walks of life, and that's what makes it so special.
"For me — a humble four-soon-to-be-five-time burner — Burning Man begins weeks before I get to the playa. The decision to go again, the meticulous preparation needed to survive and thrive, the journey there — these are part of the whole experience," says Christian Gaines, WESTAF's executive director. "Once I've made it to Black Rock City, all of the assumptions, disappointments and biases that have calcified within me over the past year are challenged and confronted, replaced by wonderment, the thrill of possibility against the odds and enduring astonishment in what this community of artists, builders, dreamers and doers achieve in the Black Rock Desert every year."
Art at Burning Man serves a far greater purpose than a merely visual experience: the pilgrimage to the desert culminates in participants' immersion in a creative, participatory community where every action is part of the greater alchemy of the event. Burning Man's art brings participants together to share experiences with one another, fostering an environment full of exploration, interaction, and appreciation for what creativity and radical ingenuity can accomplish. The effort to bring these artworks to the desert begins with the collaboration and creative drive of the Burning Man community: 
"Some art is supported financially by the Burning Man Project (the nonprofit that owns Black Rock City) and others are supported with in-kind offerings of access to heavy equipment, or event tickets. Many each year are simply created by an ambitious group of dedicated people who are living their dreams by creating art to be experienced by others, supported by the space that Black Rock City is, as a hotbed of creative expression." — Rachel Cain, arts professional and decade-long participant both on and off playa.
For artists, the playa not only provides them with the opportunity to showcase their artworks but also sets them free from all boundaries when creating their art, giving them the leeway to think big, create enjoyable experiences for participants, and occupy space.
Archiving the Burning Man Arts collection on PAA provides a glimpse into the ephemeral art world of the playa, where spectacular artworks occupy the barren desert for the briefest period of time in a celebration of the human and creative spirit. We hope you'll enjoy exploring this important archive and taking a moment to appreciate the thrill of the ephemeral.
Further Exploring
If you would like to learn more about Burning Man, are interested in attending next year's event and/or getting more information on how to get involved, please visit their website.