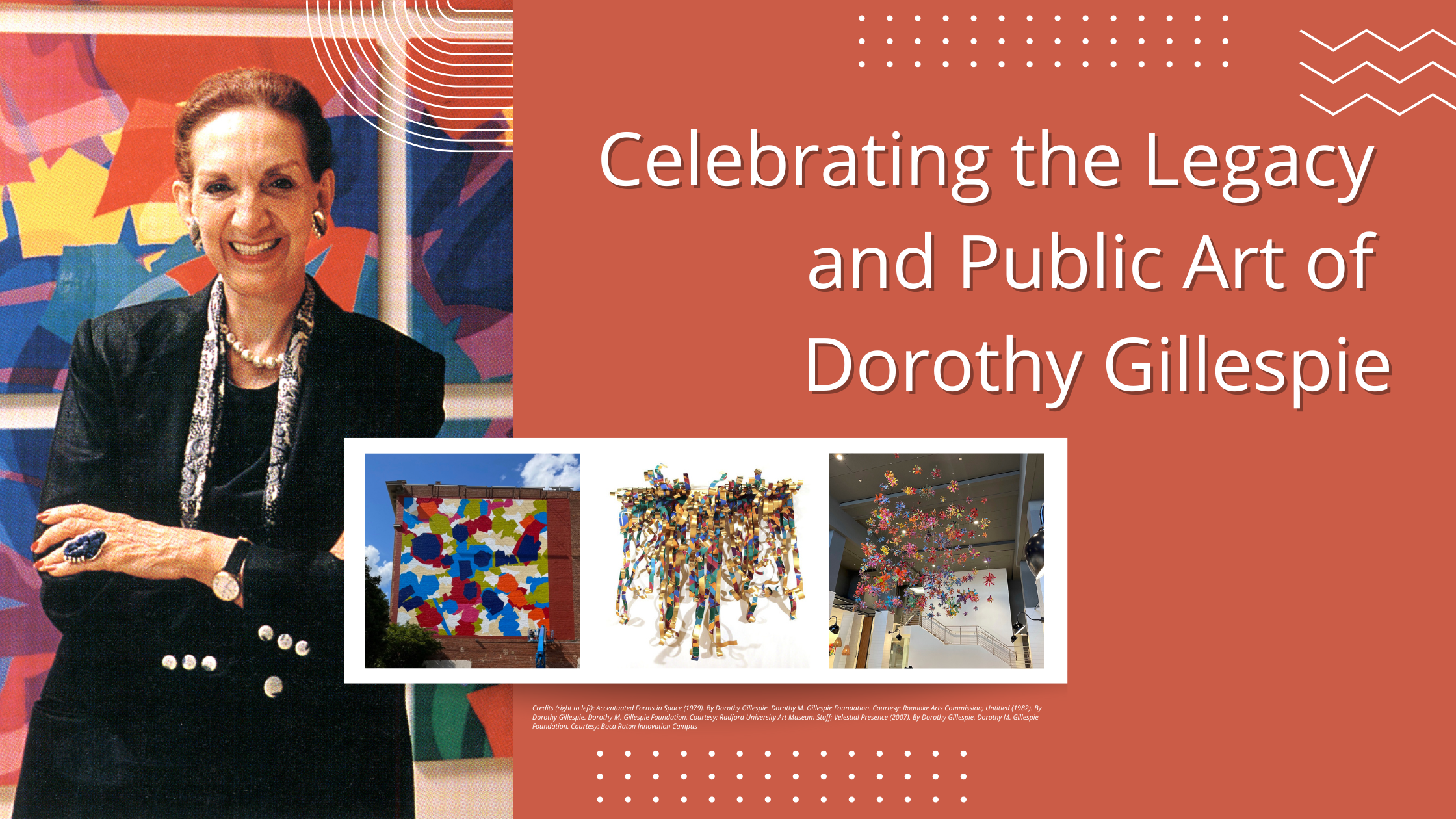 Born in Roanoke, Virginia, sculptor, painter, and installation artist Dorothy Gillespie made her mark in the public art field. Well known for her large metal ribbon-like sculptures, Gillespie was more than an artist — she was a women's rights activist who paved the way for other fellow women artists, introduced new art trends in the 20th century, and transformed how we view public art today.
For this month's Public Art Archive (PAA) artist spotlight, we invite you to learn more about Dorothy Gillespie and her contributions to the field. In this feature, we dive a little deeper into Gillespie's artful journey with help from Gary Israel (President and CEO of The Dorothy M. Gillespie Foundation Inc., as well as Gillespie's son), who shares with us a new project he is working on to document all his mother's artworks across the country. 
Gary reached out to the PAA team in the early stages of this ambitious project, and it has been an honor to work with him to bring Dorothy Gillespie's archive to life over the past year. Gary's work has involved collaborating with organizations across the country that feature Gillespie's work, and his efforts shine: a dynamic, growing archive of Dorothy Gillespie's artworks lives on PAA today where the joy and exuberance of her work can be discovered and enjoyed by all.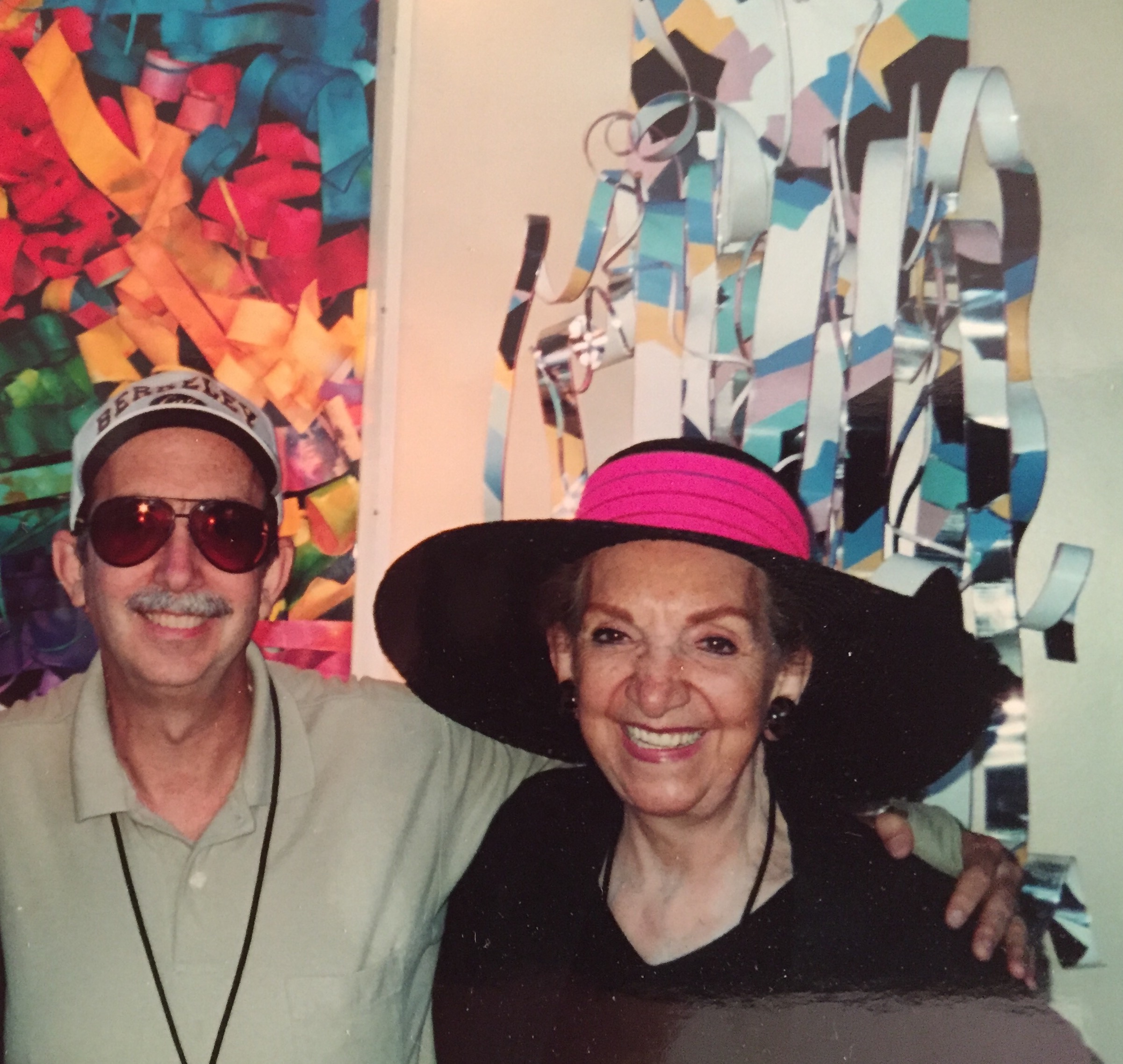 Could you tell us about your mother's first piece?
In 1975, my mother created her first major, public site-specific work. Called "New York City Wall," it measured 53 feet by 90 feet. The location that my mother selected offered her work great visibility due to its location on the corner building that faces north on Houston Street at Mercer Street. Pedestrians, passing traffic, and aircraft passengers could view the art piece. My mother had seen it from the air on more than one occasion. Although her works are in museums around the world, she always wanted her art to be seen in indoor or outdoor public places. [Note: This building has since been demolished and the mural is no longer on view.]
What inspired you to begin this project of preserving your mother's legacy?
After my mother passed away in 2012, I traveled around the country to meet with artists, collectors, museum directors, curators, university administrators, and public officials to learn more about my mother and her art. Through these many conversations, I discovered that she had an extraordinary life as a painter, sculptor, environmental and installation artist, feminist, activist, mentor, writer, educator, lecturer and filmmaker. It inspired me to travel around the country and share my plans for preserving my mother's art and legacy.
Can you tell us about your process of collecting information about your mother's artwork?
After her passing, I went through my mother's files in her NYC and Catskills studios (newspaper articles, catalogs, press releases, artist statements, personal letters, professional correspondence, art magazines, journals, photographs and slides) to learn about her and her art. In addition, I went around the country to meet with people who knew, worked with, or were influenced and inspired by her. They shared their stories and information which I used to learn more about her.
Several years ago, I reached out to the Special Collections and University Archives at Rutgers University regarding donating my mother's 24 boxes of written archives. I am very excited that my mother's papers are now a part of The Miriam Schapiro Archives on Women Artists, one of the largest archival collections dedicated to collecting and preserving women artists' papers, publications, and organizations in the United States.
Why is it important to you to preserve your mother's artwork and legacy in digital space?
My mother's legacy needs to be preserved in digital space where young women artists worldwide can learn about the impact she had on the art world.
"I am a believer in public art — art in public places. People should be able to grow up with art, live with it. It's not just something to go see in a museum." – Dorothy Gillespie
She worked vigorously during the early years of the Women's Movement attending meetings, planning strategy, and offering inspiration. She passionately championed political action, high aesthetic standards, and education as goals for women. In 2001, my mother received the Lifetime Achievement Award from the Women's Caucus for Arts for her work, vision, and commitment to women in the visual arts. Of course, not everyone can see my mother's public art and having it in the Public Art Archive allows the public an opportunity to enjoy and learn about the extraordinary life of Dorothy Gillespie, an inspiration to young and old.
Make Public Art More Public
By making public art more accessible and available to all, Gillespie's legacy and contributions to the field will live on and be celebrated for decades to come. To learn more about Dorothy Gillespie and her artwork, check out our interactive map and resources. 
Resources