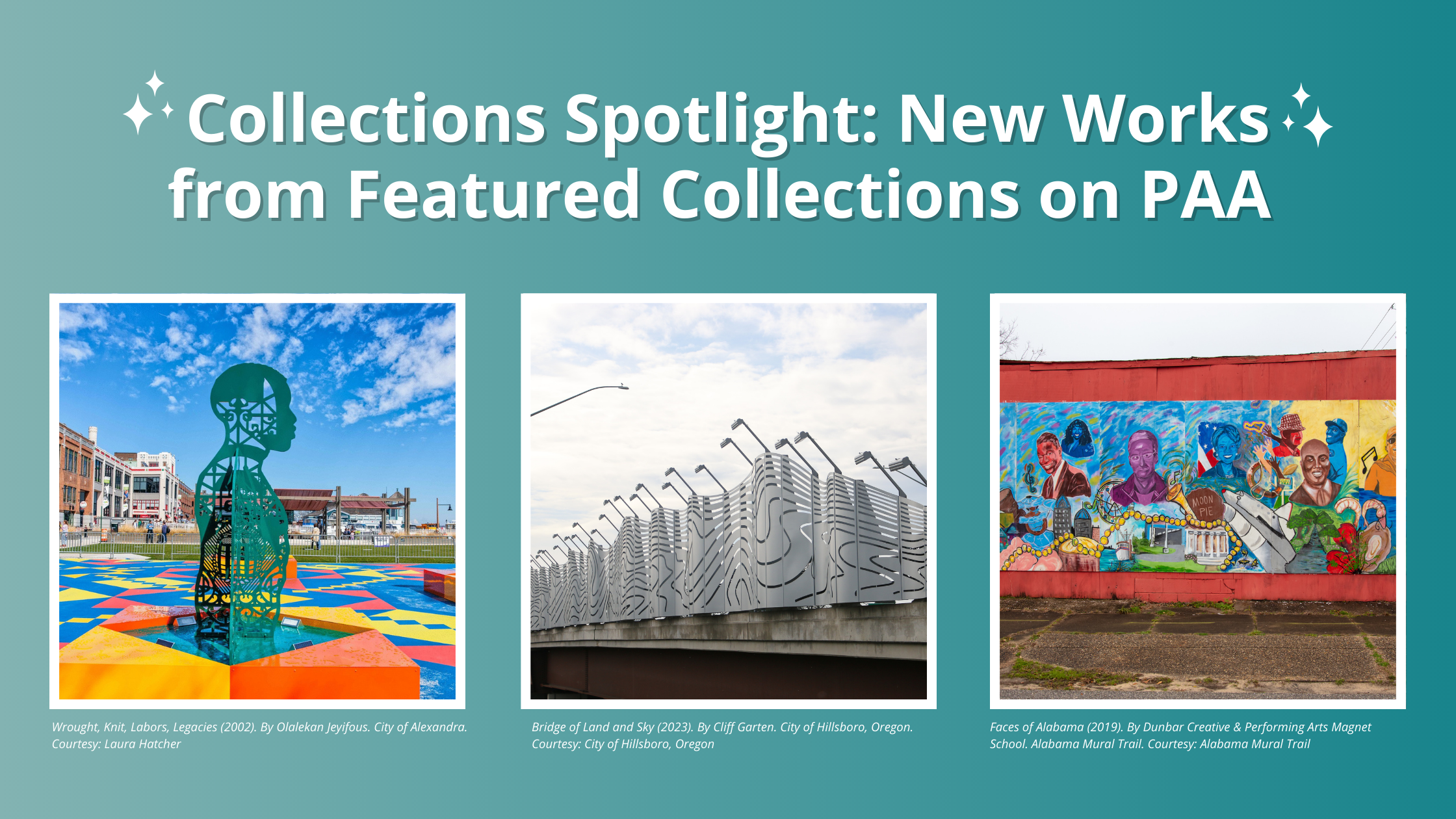 Greetings, public art enthusiasts! At the Public Art Archive (PAA), we believe art should be accessible to everyone — whether that be online (through our newly revamped portal) or in-person via self-guided tours, exhibitions, festivals, and/or outdoor happenings. We also strive to spotlight and acknowledge the tremendous effort that goes on behind the scenes in the realm of public art. From the artists to arts organizations, fabricators, installers, curators, and conservation teams who bring public art to life — without them, we wouldn't be able to experience public art the way we do today. 
We're excited to highlight three public art collections that use PAA's products and services to build access and exposure to their communities' creative assets. PAA loves working with these teams, and these collections represent something we love most about public art: the multitude of forms and approaches public art practice can take! Not only do they represent diverse geographic areas in the U.S., but these collections also highlight different forms of public art, themes, and approaches to cultivating community through public art collections. All three have recently added new artworks you won't want to miss!
The City of Alexandria Office of the Arts works with local artists and arts organizations to ensure arts and culture are accessible to the City's residents, workers and visitors. Through their public art collection, they build a vibrant community that strengthens community pride and fosters tourism. The collection includes 69 public artworks ranging from public and privately owned works of art, as well as permanent and temporary works living all over the city of Alexandria. Delve into the vivid colors and intricate details of these pieces while learning more about Alexandria's cultural heritage. 
We encourage you to check out all that the collection has to offer and visit Alexandria's showcase page to learn more about the organization and to view collection highlights, multimedia, and interactive maps.
Are you a fan of murals? The Alabama Mural Trail collection is a must see! Spanning nearly 300 murals located in urban and rural areas across the state of Alabama (Central, East, Gulf, Midsouth, North, Southeast, Southwest, and West), the Trail fosters a sense of community, drives economic impact, and brings locals and tourists together to explore all parts of Alabama.
"Public art has the power to bring joy to everyone and acts as a natural connector. Murals can cross social boundaries, economic boundaries, physical abilities and even language barriers. We always encourage Alabama communities to use murals to create dynamic places for people to live, work and play."  — Erin Hackenmueller, Branding & Communications Development Manager, The University of Alabama Center for Economic Development
Throughout the state, you will uncover murals dedicated to history such as the civil rights movement, as well as celebrities like singer and songwriter Brittany Howard from Alabama Shakes and British actress and fashion icon Audrey Hepburn. Next time you visit Alabama, make sure you take some time out of your day to immerse yourself in the captivating world of these murals and learn more about what makes Alabama a unique and creative place. Don't forget to capture the moment and snap a picture and tag @alabamatourist and use #SweetHomeMurals on social media! 
Using public art as a tool to strengthen its community, the City of Hillsboro's public art collection helps create memorable public spaces and transformative experiences — creating a community that future generations are proud to call home. The collection has brought 112 pieces, both permanent and temporarily-exhibited, from locally, nationally, and internationally known artists to the city. As you browse through the collection or experience it in person, you will be amazed by how much it has to offer. 
"Since 2012, the Hillsboro Public Art program has acquired over 95 pieces of public art which are on display throughout the city – eighteen of which are easily accessible, outdoor sculptures – and every one of them tells a story. We are proud of the fact the majority of these sculptures were created by Oregon and Washington artists, many who live in the Portland Metro area." — LeAnn Alsop, Arts Administrator, City of Hillsboro
Most recently, the City of Hillsboro revealed its newest and biggest public art installation: Bridge of Land and Sky. Designed by Cliff Garten, the 7–9 ft tall installation spans 290 ft wide on each of the eastern and western edges of the Brookwood overpass over Highway 26. Influenced by maps of the surrounding Tualatin Hills, Chehalem Ridge, and the Oregon Coast Range, the piece serves as a gateway to welcome Hillsboro residents, guests, and travelers. Heading to Oregon in the near future? Head over to Hillsboro's collection showcase page and get familiar with the city's diverse, creative, and historical pieces. And while you're at it, make sure to expand your search to the abundant public art located throughout the state.
The Public Art Archive online portal is the perfect place to start your public art journey. Discover collections in your community and beyond. Whether you are a curious admirer, a passionate supporter of public art, or an art-lover, we invite you to experience these remarkable collections — ignite your imagination and creativity — so much awaits!