Earlier this month, the Public Art Archive's (PAA) Alison Verplaetse presented at the Midwest Archives Conference in Chicago, IL. Her presentation, Diligent Data: Promoting Equity & Accountability in Digital Collections, showcases how PAA can be used as a digital site of equity and transparency, as well as a discursive space to dig deeper into the critical analysis of and response to works of art over time. Utilizing digital archives in this way can offer ample opportunities to demonstrate and record how public art shapes and is in dialogue with its community while its meaning and impact changes over time.
In this mission to cultivate equity and accountability in data and digital archives, guiding questions for PAA are two-fold: How can the archival records activate the stories surrounding public art and public space? And how can digital archives become dynamic tools to act as accountability measures, stewardship opportunities, and portals for engagement, rather than visualizing collections and their art components as static objects? 
In our efforts to capture the larger context and meaning of public artworks and collections, PAA's digital tools and framework are challenged with providing a sense of balance to the organizations and artists with whom we work: the framework we provide for data collection must be standardized in order to gather consistent data that can be presented and analyzed in a central repository – one that must engage audiences of all backgrounds and levels and interest, while remaining flexible enough to capture the robust variety of data points we are receiving from those who manage collections. This interplay can pose a challenge to data structures and digital archives that need to provide ways to standardize classifications while also responding to the evolving needs of the field. Additionally, they must present context that engages the public and from which meaningful conclusions can be drawn. 
The interactive poster below provides visualizations of key areas in which PAA has worked with partners to implement more equitable data practices and promote accountability between art collection owners/administrators and their communities. These practices include, but are not limited to: the development and implementation of new data fields like 'maker-supplied identity' to allow for tracking and evaluation of numerous collection diversity metrics, districts numbers, indigenous lands, collaborators, and on view/off view dates. These and several other data collection fields demonstrate important metrics as well as community engagement in the creative economy and can be used to advocate for policy changes that will allow the impact of public collections to reach all populations in a city.
A larger version of the poster can be viewed here.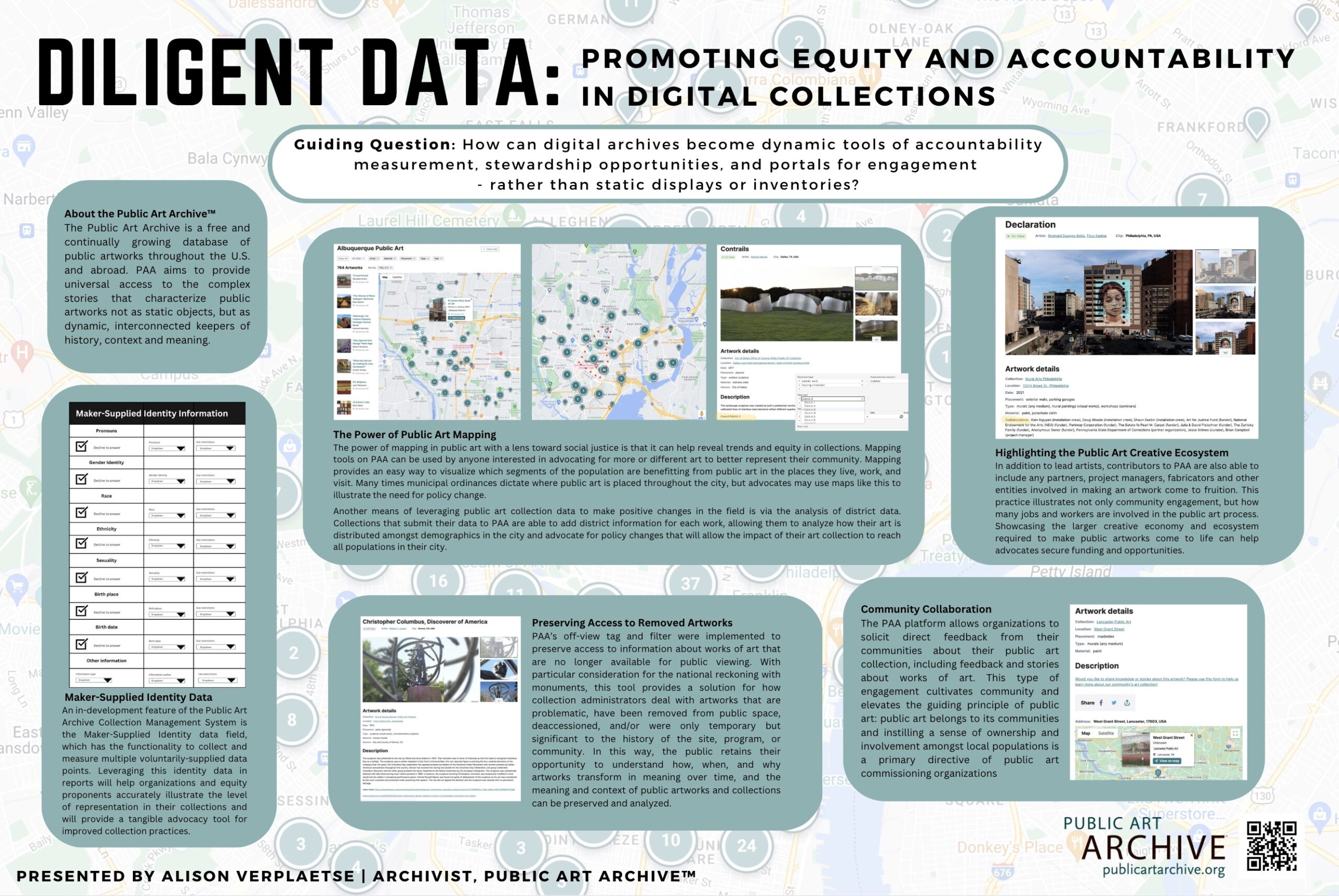 Maker-Supplied Identity Data An in-development feature of the Public Art Archive Collection Management System is the Maker-Supplied Identity data field, which has the functionality to collect and measure multiple voluntarily-supplied data points. Leveraging this identity data in reports will help organizations and equity proponents accurately illustrate the level of representation in their collections and will provide a tangible advocacy tool for improved collection practices.
The Power of Public Art Mapping The power of mapping in public art with a lens toward social justice is that it can help reveal trends and equity in collections. Mapping tools on PAA can be used by anyone interested in advocating for more or different art to better represent their community. Mapping provides an easy way to visualize which segments of the population are benefitting from public art in the places they live, work, and visit. Many times municipal ordinances dictate where public art is placed throughout the city, but advocates may use maps like this to illustrate the need for policy change. Another means of leveraging public art collection data to make positive changes in the field is via the analysis of district data. Collections that submit their data to PAA are able to add district information for each work, allowing them to analyze how their art is distributed amongst demographics in the city and advocate for policy changes that will allow the impact of their art collection to reach all populations in their city.
Preserving Access to Removed Artworks PAA's off-view tag and filter were implemented to preserve access to information about works of art that are no longer available for public viewing. With particular consideration for the national reckoning with monuments, this tool provides a solution for how collection administrators deal with artworks that are problematic, have been removed from public space, deaccessioned, and/or were only temporary but significant to the history of the site, program, or community. In this way, the public retains their opportunity to understand how, when, and why artworks transform in meaning over time, and the meaning and context of public artworks and collections can be preserved and analyzed.
Highlighting the Public Art Creative Ecosystem In addition to lead artists, contributors to PAA are also able to include any partners, project managers, fabricators and other entities involved in making an artwork come to fruition. This practice illustrates not only community engagement, but how many jobs and workers are involved in the public art process. Showcasing the larger creative economy and ecosystem required to make public artworks come to life can help advocates secure funding and opportunities.
Community Collaboration The PAA platform allows organizations to solicit direct feedback from their communities about their public art collection, including feedback and stories about works of art. This type of engagement cultivates community and elevates the guiding principle of public art: public art belongs to its communities and instilling a sense of ownership and involvement amongst local populations is a primary directive of public art commissioning organizations