Street Scene
A Deep Dive into the CETA New Haven Murals
"Murals no longer merely observe and record societies and their changes, but are indeed involved in those changes.  When murals serve to brighten a community's walls they reflect the fact that people are conscious of their surroundings, and, even more important, conscious of their power to improve their surroundings.  When murals express an idea, when murals voice protest, when murals celebrate, when murals cry out in agony, they are serving the artists and collaborators and they are speaking out to the rest of the community.  When murals are a result of a team's efforts they represent the conscious decision of those individuals involved that the unity of their ideas and labor is valid and necessary to accomplish their goals."
– Artist statement by Ruth Resnick (Johnson), December 21, 1976. Read the rest of Ruth's statement here.
The Life of CETA Murals in New Haven
For less than five years at the end of the 1970s, New Haven was home to a thriving mural program, the likes of which had not been seen since the 1930s under the WPA. While CETA provided funding for all sorts of community and training programs, New Haven was unusual in the State of Connecticut by instituting a mural program headed by emerging local artists who developed relationships with neighborhoods and organizations around the Elm City, bringing public art to new places. The total number of CETA projects in New Haven numbered close to fifty, of which at least 15 murals projects were created, some surviving for thirty or forty years. 
In 1979, Frank Logue lost his mayoral reelection bid to Biagio DiLieto. At the same time, federal funds dried up, and the lack of long-term employment—the point of the project funding—was noted by Jeffrey Gordon, the Arts Jobs Administrator in New Haven City Hall, who wrote in his final report to the Connecticut Foundation for the Arts at the end of 1976,
"The artists felt they had done everything they could do to insure continuance by the quality of their efforts and by the good will that they created in their community. They were extraordinarily effective ambassadors for their art forms. The City of New Haven (i.e. City Hall) seemed genuinely appreciative, but when the 'chips are down' could not provide a single artist with full time employment. Political pressure has been brought to bear on Mayor Logue for 'frittering away precious time and money on the arts,' and he seems a bit wary of further commitment."
Untitled
Holland Liquor Store, New Haven, 1976.
Ruth Resnick (Johnson) recalled the story of this mural: when neighborhood kids saw the mural at the Hill Neighborhood Office building, they approached Ruth and said they wanted to paint a wall, too. She has a hazy memory of missing her college graduation from SCSU (at that time, Southern CT State College) in order to help create this mural.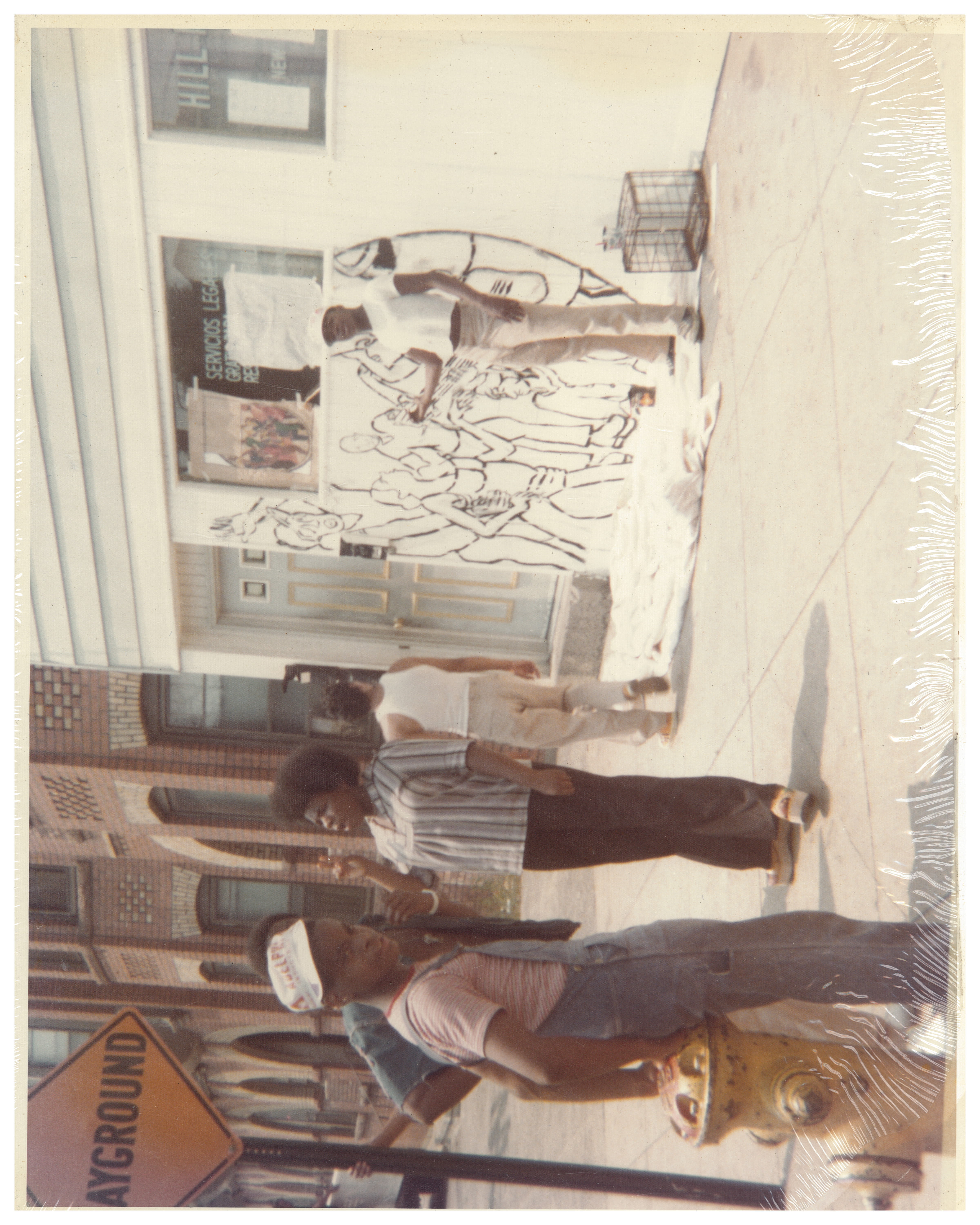 Untitled
Congress and Howard Ave, New Haven, 1976.
Mural collaboration between CETA Summer Youth Program Participants and Ruth Resnick (Johnson).

Of Ourselves
Fair Haven Neighborhood Corp, 1976.
Created by a series of unknown artists.
Untitled
162 Fillmore St, New Haven, 1976.
Ruth Resnick (Johnson) recalls getting paints donated for this mural. They were oil paints, and thus presented an interesting challenge–having to use turpentine with the kids!
Togetherness
Corner of Ivy and Newhall Streets, summer 1976.
Created by the CETA Summer Youth program. Project directed by Terry Lennox. 
Spirit of '76
301 Washington Avenue, Frank's Paint & Hardware Store, Hill neighborhood.
This mural, themed around the Bicentennial, was created in collaboration with Angel L. Miranda, Jr. of the Puerto Rican Youth Services and neighborhood kids. Project directed by Ruth Resnick (Johnson). Mario was a painter. Johnson remembers him saying, "I just want a nice neighborhood to live in."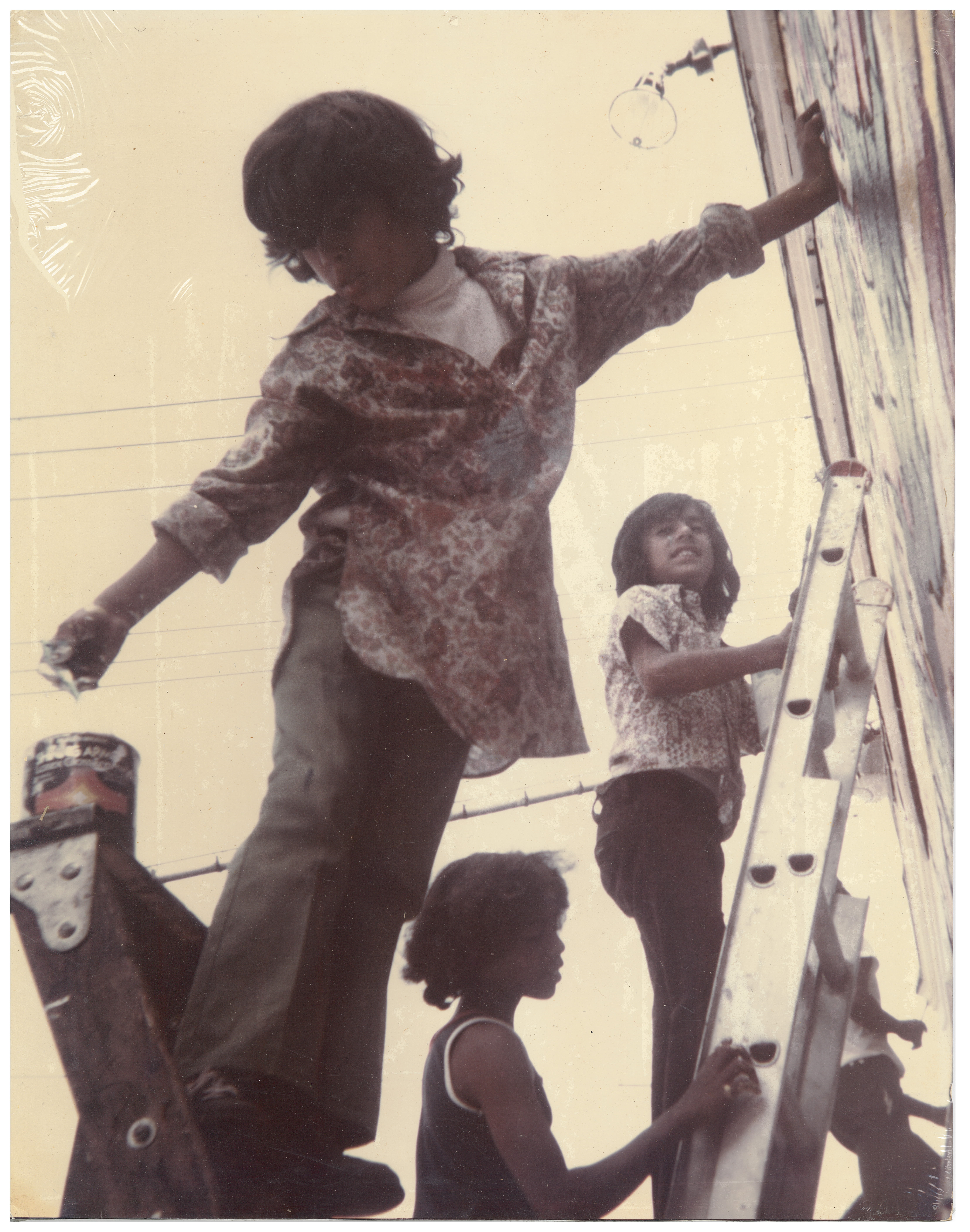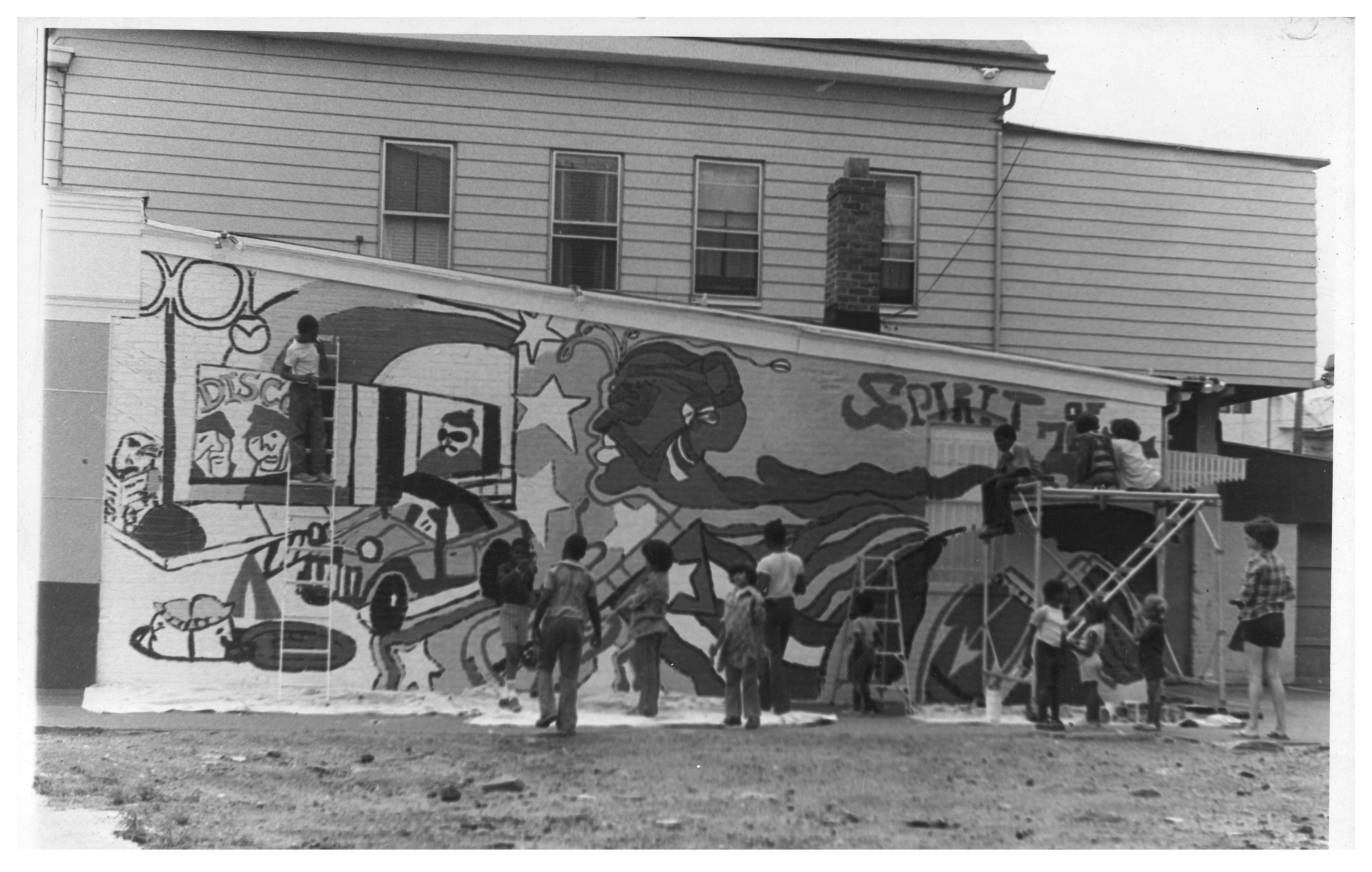 Freddie Fixer Parade
Location: New Haven Green
CETA was interested in all sorts of community projects, including gardens, performance art, and parades as seen in these images from the Freddie Fixer parade. The Freddie Fixer parade started in 1963 and was intended to "fix" neighborhoods by community clean-ups and beautification projects, which would, in turn, instill pride and enthusiasm into the city. Many Black residents remember the parade as a central community event, and considered the parade the highlight of the year. The last Freddie Fixer parade was held in 2019. Diane Brown, the head Librarian at Stetson Library, now in the Q House, spoke about the special clothes her mother would buy when getting ready for the parade.
Sports Mural
Playground wall of Dr. Martin Luther King School, Dixwell Avenue, 1976-1977.
Created by students, staff and parents. This was one of the last remaining CETA murals in New Haven. The school was demolished in 2013 to make way for Achievement First Amistad High School, which also features public art.  
Untitled
Former Richard C. Lee High School, 1977.
Project directed by Ruth Resnick (Johnson) and Terry Lennox. As part of the seven-week program the CETA participants painted several murals in and around Lee High School.  
Waking Up The Paradise In The City
McQueeny Towers, 1977.
The mural crew at McQueeny Towers, supervised by Peter Siegel, painted "Waking Up The Paradise In The City," symbolizing old New Haven with trolley cars and the present New Haven with the Foundry Cafe. This crew insisted on bright colors and Siegel encourages them to stretch their imaginations.
Source: The Journal-Courier, August 16,1977
'Q House' Murals
Dixwell Avenue.
Several murals were created for the 'Q House" on Dixwell Avenue, which remained in place until the closure and eventual demolition of the building in January 2017, to make way for a new community center. 
We Can Do It All Better Together in Peace, In Joy, In Love
Waiting Room, hallway and administration offices, New Haven Department of Welfare, 196 Bassett Street. 1977-1979, 6' x 70.'
Project created by Ruth Resnick (Johnson) and Terry Lennox. This project was sponsored by CETA with a matching grant from the Connecticut Commission on the Arts (today, the State of Connecticut's Office of the Arts). The project was the culmination of three years of working with the public on community mural projects, which had given emerging artists Terry Lennox and Ruth Resnick enough experience to tackle a large mural with a challenging message.
About the project, Lennox and Resnick wrote, 
We have chosen the City Welfare Department as one of our mural sites because traditionally it has been a social service organization last considered, if considered at all, for public art projects. 
It is our first major mural project in the sense that we had enough time to develop the theme in depth with New Haveners, and also in that we had the time to develop our technical and compositional skills during the painting process. Though painted by two people, this mural represents the combined efforts of the city administration, CETA carpenters, the Welfare Dept. staff, local paint and art stores, other artists, as well as about 40 clients, staff, and friends of the Welfare Department…
We want to communicate the injustice we feel is taking place against people on welfare, not only in terms of their suffering, but because society tends to blame exactly those people for their suffering. 
The mural, painted on Masonite panels and featuring images of local persons as well as national figures such as Coretta Scott King, Mary Bethune and Muhammad Ali, was removed soon after by staff of the Welfare Office. The installation of a partition wall attached to an area of the mural, blocking view of a central part of the artwork, caused a series of conversations between the artists and the City. But, within a year of its installation, the mural was removed. The fate of the painted Masonite panels is unknown.
Path of the World
Richard C. Lee High School gymnasium wall, summer 1977.
Created by 28 CETA Summer Youth participants.  Project directed by Ruth Resnick (Johnson) and Terry Lennox. The mural was dedicated to former high school principal Dr. Richard Schreck. As part of the seven-week program the CETA enrollees painted several murals in and around Lee High School. 
Portrait of Frank Logue
Location: Biagio di Lieto City Hall
"In a city which ignores the arts, a city which is destitute of art, the quality of life suffers. In fostering the arts, a city government may be playing its most meaningful role." Frank Logue
Although mostly gone, CETA murals gave voice—and visual form—to a largely ignored segment of the population of New Haven in terms of public art making, and for this, New Haven was once again recognized as a regional leader. Much of the credit for the growth of public art in the Elm City during the late 1970s is attributable to Frank Logue (1924-2010), a Yale University graduate who, as mayor, was chairman of the National Task Force on the Arts of the League of Cities. Although his tenure was brief—he was mayor of New Haven from 1976 to 1979—as an independent liberal with a passion for historic preservation and the arts, with Logue's support the CETA program flourished. Logue helped with multiple arts and civic projects across New Haven, including the revival and restoration of the Shubert Theater and the design and installation of the Holocaust Memorial in Edgewood Park.