Curator Statement:
As Santa Monica prepares for the future, we reflect on its past. Legacies of inequality—embodied in structures of representation and opportunity—demand the inclusion of previously underrepresented or erased voices and communities that are part of the City's past, present and future. These works represent the many voices that contribute to Santa Monica's cultural landscape, and they help visualize the importance of its diverse communities. Pieces by Lavialle Campbell, Miguel Osuna, Umar Rashid, Emma Robbins and Linda Vallejo join those by Laura Aguilar, Charles Gaines, Kerry James Marshall, Alfredo Ramirez, Alison Saar, John Valadez and Richard Wyatt, contributing to a historic and aesthetic articulation of "Lives that Bind."
Each artist addresses erasure and underrepresentation in a unique way, and each signifies identity and place in their artmaking—concepts at the core of sustainable communities and the common good. The resonance of these works shown together speak to how diversity unites us, and how multiple perspectives can perpetually renew conversations about identity, equity, and justice.
Lives that Bind is a project of the City of Santa Monica, commissioned through its Percent for Art Program and produced by Santa Monica Cultural Affairs and the Santa Monica Arts Commission.
———–
Lives that Bind: una instalación artística sobre justicia restaurativa curada por la Dra. jill moniz
Mientras Santa Mónica se prepara para el futuro, reflexionamos sobre su pasado. Los legados de desigualdad, plasmados en las estructuras de representación y en la oportunidad, exigen la inclusión de las voces y las comunidades que anteriormente estaban subrepresentadas u olvidadas, y que forman parte del pasado, el presente y el futuro de la Ciudad.
Estas obras representan las muchas voces que contribuyen al paisaje cultural de Santa Mónica, y ayudan a visualizar la importancia de sus comunidades diversas. Las piezas de Lavialle Campbell, Miguel Osuna, Umar Rashid, Emma Robbins y Linda Vallejo se unen a las de Laura Aguilar, Charles Gaines, Kerry James Marshall, Alfredo Ramírez, Alison Saar, John Valadez y Richard Wyatt, contribuyendo a una articulación histórica de "Lives that Bind" o "Vidas que Unen".
Cada artista aborda el olvido y la subrepresentación de una forma única, y cada una de estas formas representa la identidad y el lugar en su creación artística: los conceptos en el centro de las comunidades sostenibles y el bienestar común. La relevancia de estas obras que se muestran juntas habla sobre la forma en que la diversidad nos une y sobre cómo las múltiples perspectivas pueden renovar las conversaciones sobre identidad, equidad y justicia.
Lives that Bind es un proyecto encargado por la Ciudad de Santa Mónica a través de su Programa Percent for Art, y producido por Asuntos Culturales de Santa Mónica y la Comisión de Artes de Santa Mónica.
jill moniz's interests focus on building understanding, creativity and inclusivity through the arts. She worked in community engagement at the Museum of Latin American Art before becoming head curator at the California African American Museum in 2006. moniz with Dr. Carlos Silveira founded Transformative Arts, a nonprofit with a mission to build citizenship and place through the arts. She served as curator to Dr. Leon O Banks, a founding trustee of MOCA before returning in 2013 to large-scale exhibitions in museums and galleries around the world. In 2016, she co-founded Quotidian, a curatorial investigative space supporting local artists and building visual literacy. Dr. moniz serves as an independent curator and an advisor on community engagement and programming to museums and galleries, and sits on advisory boards throughout the state. Before moving to California, moniz conceptualized a contemporary art museum for the Efroymson Foundation and taught social theory and discursive practice at Rosemont and Cabrini Colleges on Philadelphia's Main Line. She holds a doctorate in cultural anthropology from Indiana University and lives in Los Angeles.
Exhibition Details
Santa Monica City Services Building, City Hall East
*City Hall East is open 7:30am to 5pm Monday through Thursday and every other Friday.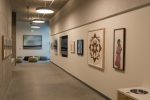 Installation View, Lives that Bind, photo by Halline Overby 2020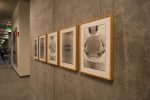 Access + Opportunity = Success, Laura Aguilar, 1993, photo by Halline Overby 2020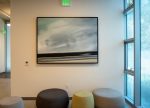 These Days it Comes and Goes, Miguel Osuna, 2013, Lives that Bind, photo by Halline Overby 2020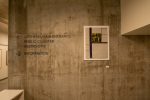 Encapsulated, Lavialle Campbell, 2017, Lives that Bind, photo by Halline Overby 2020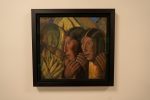 Three Women, Alfredo Ramos-Martinez c.1930, photo by Halline Overby 2020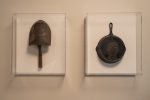 Spade Study "Red", Alison Saar, 2001, photo by Halline Overby 2020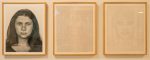 Faces: Men & Women, Set 5, "Constance Romero", Charles Gaines, 1978, photo by Halline Overby 2020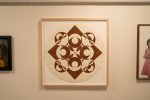 Datos Sagrados: 43.3% of US Farming Forestry & Fishery Workers are Latino, Linda Vallejo, 2017, photo by Halline Overby 2020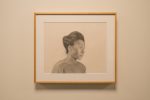 Joyce, Richard Wyatt Jr., 1985, photo by Halline Overby 2020
Richard Wyatt Jr.
Joyce, 1985
Pencil on paper
25 in x 21 1/4 in x 1 3/4 in
Richard Wyatt Jr. is a Los Angeles-based painter best known for his large scale murals. He attended Otis Art Institute's Tutor Art program where he studied with Charles White, John T. Riddle Jr. and William Pajaud. He then earned a Bachelor of Fine Art from UCLA. Wyatt's subject matter often depicts stories of migration, the importance of memory, and the creativity that is foundational to Black tenacity and ongoing survival. His work has been included in many important exhibitions about art in LA and his murals can be seen at Union Station in Downtown LA, as well as the Capitol Records Building and the Watts Towers Art Center.
Wyatt often creates portraits of people he knows and admires. These intimate works are highly detailed and give the viewer a greater understanding of Wyatt's relationship to the subject as he delicately rendering all of what he sees.