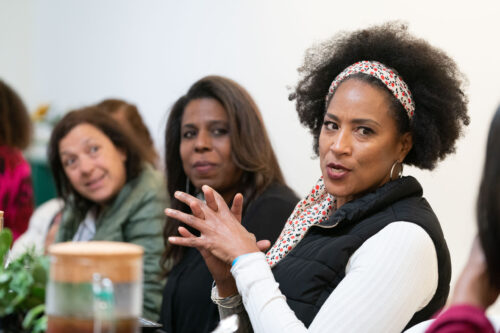 Participants discuss their histories in Santa Monica at the BH+A Community Tea, February 2020. Photo by Leroy Hamilton
Belmar History + Art (BH+A) is a public art and civic commemoration project that illuminates histories of the African American residents and business owners of, and visitors to, the historic Belmar and surrounding neighborhoods in Santa Monica. Once a thriving community, this area was razed through eminent domain in the 1950s, and residents were displaced to make way for construction of the Civic Center campus. The BH+A project incorporated elements of art, community, and history to creatively and collectively celebrate the past and future legacy of African American contributions to Santa Monica life.
BH+A is a project of the City of Santa Monica, commissioned through its Percent for Art Program, and made possible by Santa Monica Cultural Affairs and the City of Santa Monica's Public Works Department. The project historian was Alison Rose Jefferson, M.H.C., Ph.D. and the project artist was April Banks.
———–
Belmar History + Art (BH+A) es un proyecto de arte público y conmemoración cívica que destaca las historias de los residentes afroamericanos, dueños de negocios y visitantes del histórico Belmar y los vecindarios circundantes en Santa Mónica. Esta área, que era alguna vez una comunidad próspera, fue arrasada debido al dominio eminente ejecutado en la década de 1950, lo que ocasionó que los residentes fueran desplazados para dar paso a la construcción del campus del Centro Cívico. El proyecto BH+A incorporó elementos del arte, la comunidad e historia para celebrar de manera creativa y colectiva el legado pasado y futuro de las contribuciones afroamericanas a la vida de Santa Mónica.
BH+A es un proyecto de la Ciudad de Santa Mónica, comisionado a través de su Programa "Percent for Art", hecho posible por Asuntos Culturales de Santa Mónica y el Departamento de Obras Públicas de la Ciudad de Santa Mónica. La historiadora del proyecto fue Alison Rose Jefferson, M.H.C., Ph.D. y la artista del proyecto fue April Banks.
Exhibition Details /
Detalles de la exposición
Historic Belmar Park is located at 1840 4th Street Santa Monica, California 90401. The park features a sports field and the permanent exhibition, which is installed along an encircling .4 mile walking path. The path area is open 6am-11pm every day, and the field is open to permitted sports groups.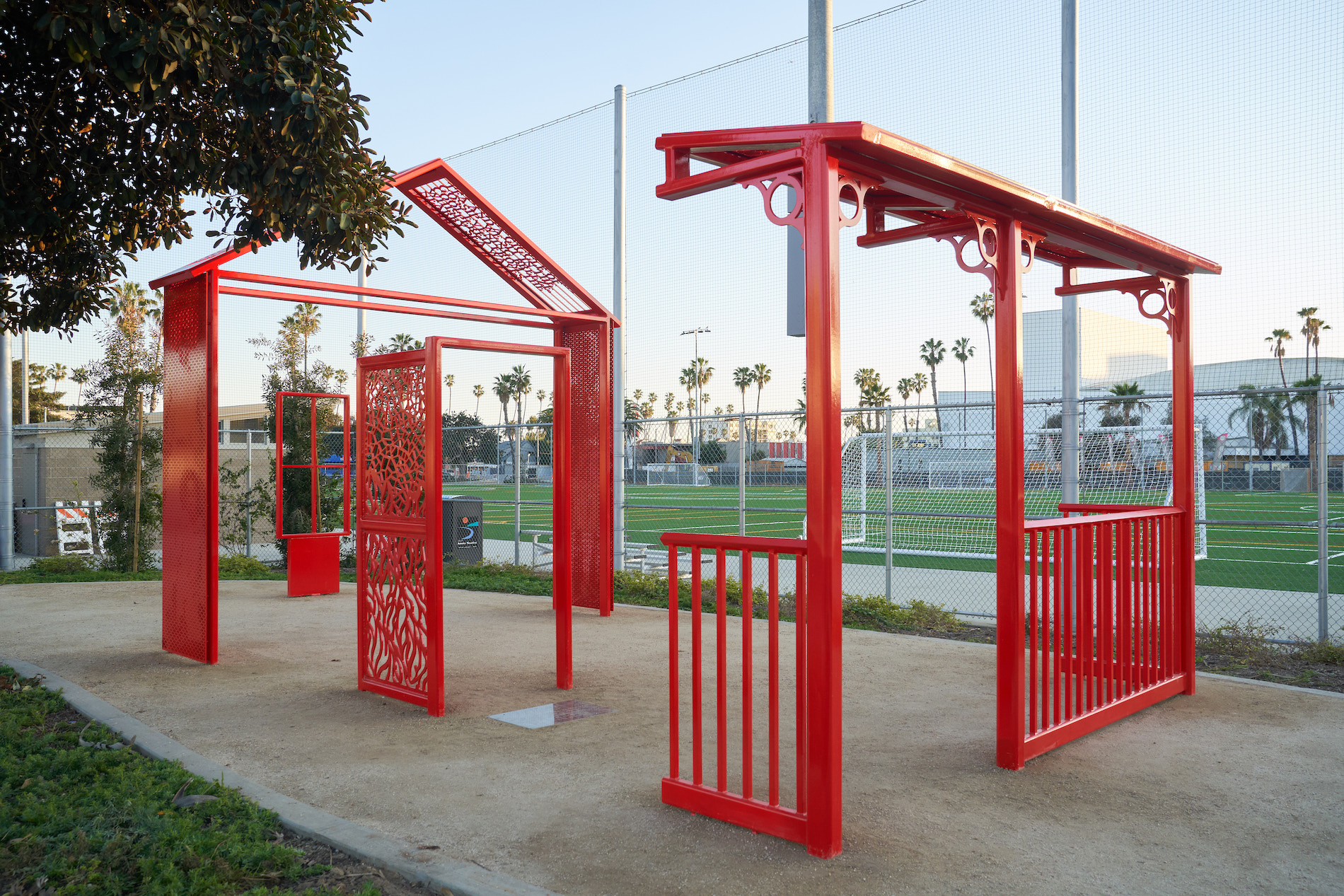 A Resurrection in Four Stanzas by April Banks, installed 2021 at Historic Belmar Park.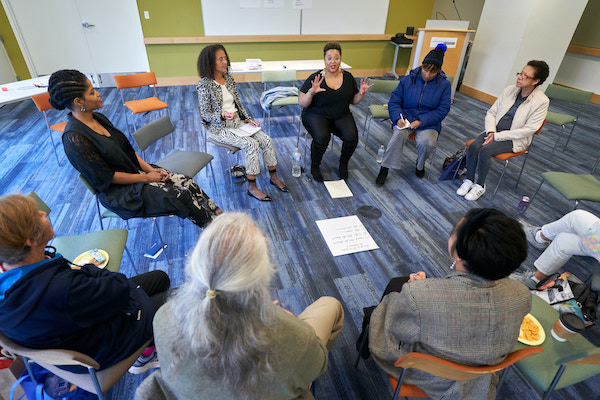 Belmar Poetry Workshop participants listen to workshop leader Natalie Patterson, January 2020. Photo by Leroy Hamilton.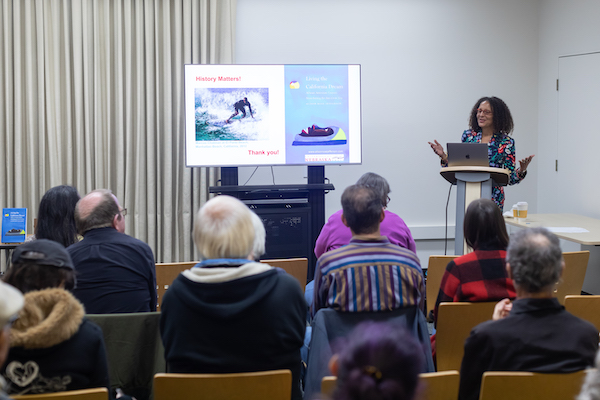 Montana Ave Branch Library Reading with Dr. Alison Rose Jefferson, February 2020. Photo by Jason Abraham.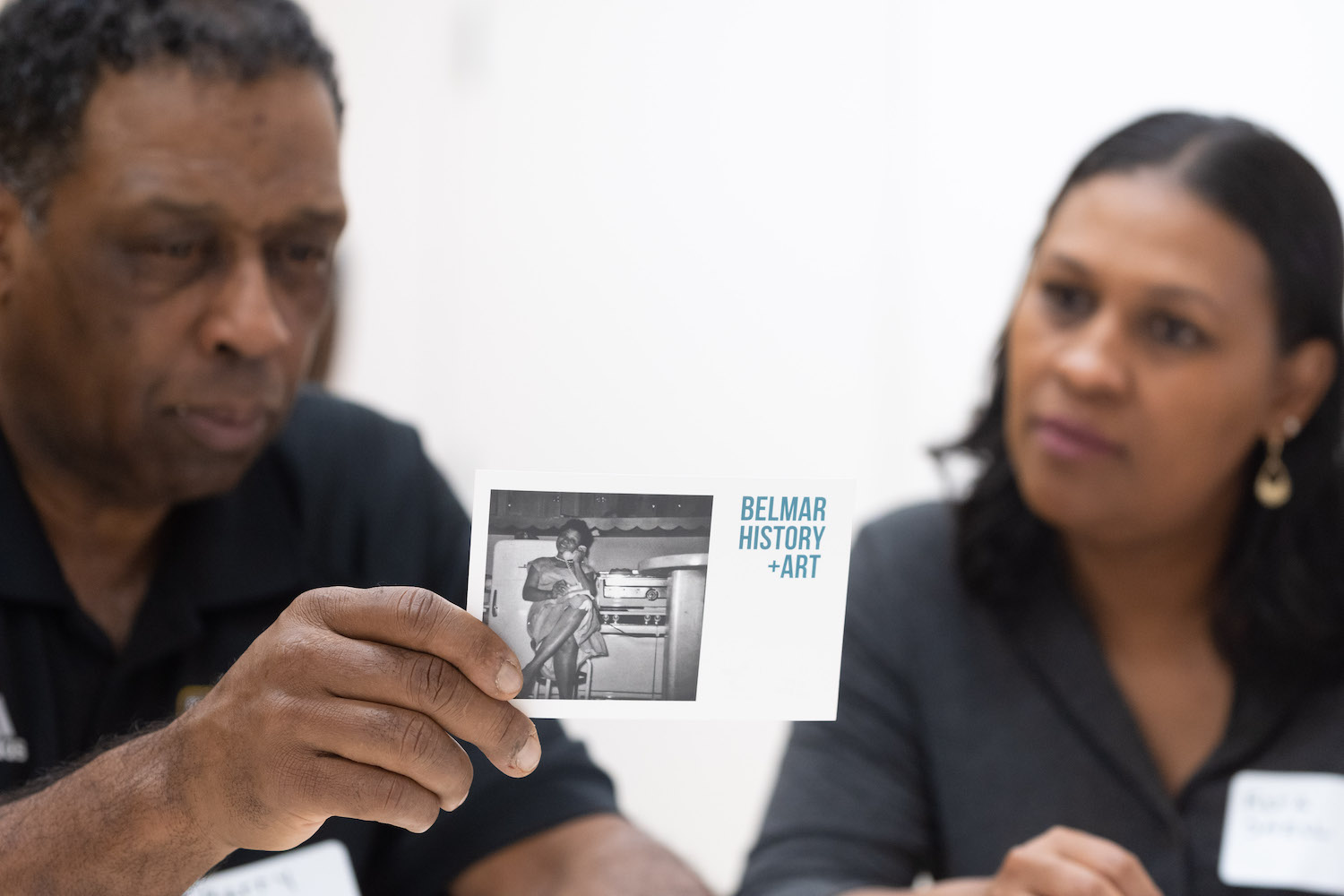 BH+A Launch Breakfast attendee, December 2019. Photo by Leroy Hamilton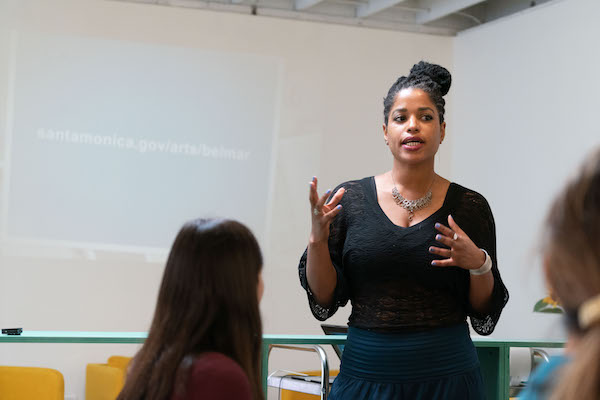 BH+A April Banks Community Tea, February 2020. Photo by Leroy Hamilton
Introduction to the Project / Introducción al proyecto
Historic Belmar Park Grand Opening / Gran inauguración
Permanent Exhibition / Exhibición permanente
Community Engagement / Participación de la comunidad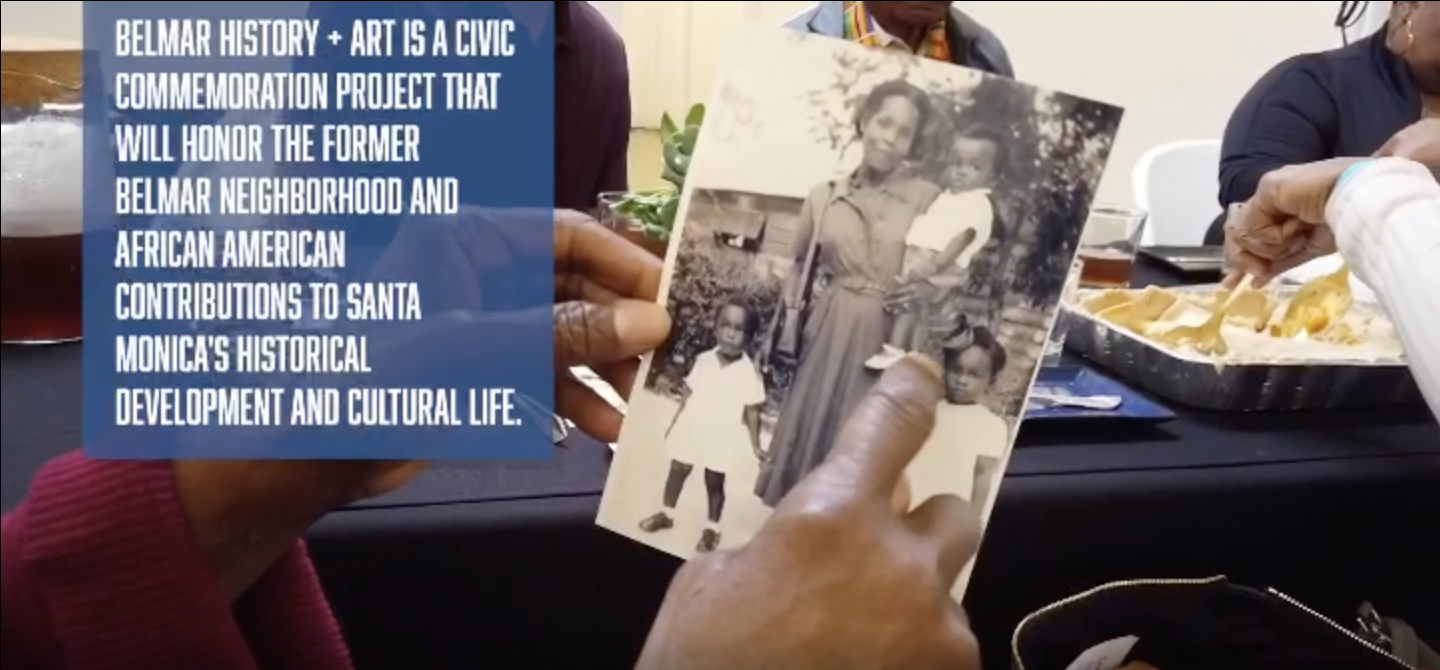 Behind the Scenes / Detrás de bambalinas
Video: Artist April Banks unveils the sculpture / La artista revela la escultura
Video: Historian Dr. Alison Rose Jefferson on the interpretive panels / La historiadora en los paneles interpretativos