"Power Map: Historic Mural Activations" is a series of five newly commissioned artworks, events, performances and workshops activating murals created in Mural Arts Philadelphia's (MAP) first 20 years that depict power and empowerment. Five diverse figurative murals serve as the starting point for an exploration of the history of their creation and the neighborhood change that the murals have witnessed. They also offer a prompt for thinking about how power is depicted in public art today and in the recent past.
Historic Mural Activations took place between the Summer of 2019 and Fall of 2020 featuring artists Marie Alarcon, Ken McFarlane, Mark Strandquist & Courtney Bowles with TRIPOD writers-in-residence from Writers Room at Drexel, Studio 22 (Nasheli Juliana Ortiz, Marién Vélez and Lorna Mulero) and Eva Wǒ.
This project has been developed on the occasion of MAP's 35th anniversary by guest curator-in-residence Daniel Tucker. 
The title of the project is inspired by the practice of "power mapping" which is a form found commonly in community organizing. One of the conventions of a power map is to create a visualization of who might be in agreement or disagreement around a particular issue. This emphasis on Agree/Disagree, or Yes/No, can be seen as the foundation of politics, but it also connects with aesthetic questions essential to the history of muralism in terms of the representation of affirmative or negative depictions of a community. Additionally, the use of the Mural Arts Philadelphia organizational acronym: MAP in the title of the project is intentional and indicates an opportunity for the project to expand upon the rich organizational history. 
"Dr. J" by Kent Twitchell (1990)
Learn more about the original mural
Visit the activation record on the PAA artwork detail page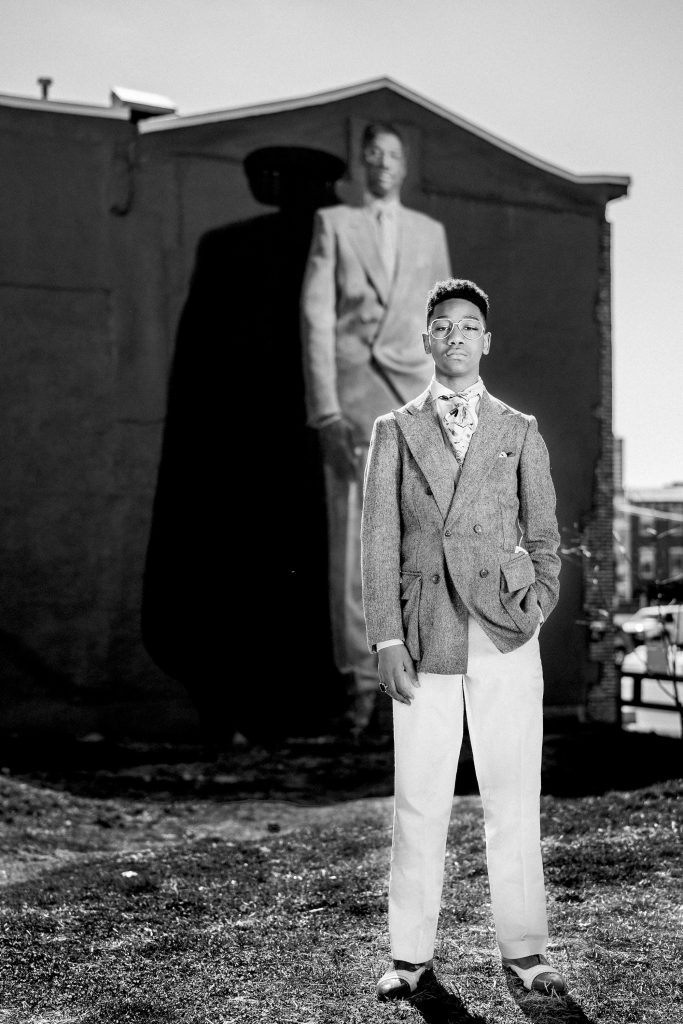 "Larger Than Life" by Ken McFarlane (2020)
Ken McFarlane is a West Philadelphia based documentary and portrait photographer. He has over 20 years experience in commercial, editorial, documentary photography and filmmaking. His current body of work focuses on producing visual and audio histories of Philadelphians in the present as a means of documentation to preserve collective memory while encouraging future generations to remember, re-examine and realize their own potential.
Photographer Ken McFarlane created the "Larger than Life" portraits responding to the Dr. J mural by Kent Twitchell (1990) at 1234 Ridge Avenue, a mural that has served as a landmark for McFarlane's life and work in Philadelphia. In this work he depicts Philadelphia-native Erik Honesty II, a teenager who McFarlane has photographed along with his father over many years. By putting Erik Honesty II in dialogue with the scale of the Dr. J. mural, the artist is exploring the role that fashion, style and youth can play in how power functions in society.
Special Thanks:
Erik HonestyII, Erik Honesty, Taj, Ayinde, Korrin, Jaleel King, Jane Golden, Daniel Tucker, Kathryn Poole
"The Boy with the Raised Arm" by Sidney Goodman (1990), restored by Brian Senft (2002)
Learn more about the original mural
Visit the activation record on the PAA artwork detail page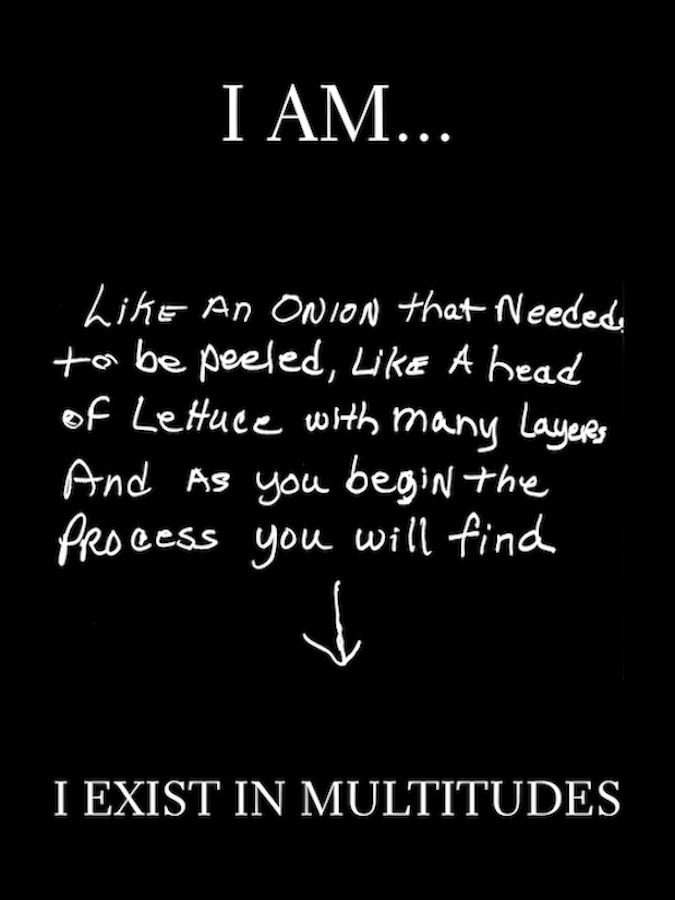 "We Exist in Multitudes" by Mark Strandquist & Courtney Bowles with Tripod (2020)
Courtney Bowles and Mark Strandquist have spent years using art as a vehicle to help amplify, celebrate, and power social justice movements.
The media campaigns and immersive exhibitions they lead  have helped advocates close a prison, pass laws, raise tens of thousands of dollars to free people from prison, and connect the dreams and demands of communities impacted by the criminal justice system with a national audience.
They have received multiple awards, fellowships, national residencies, and reached wide audiences through the NY Times, NPR, the Guardian, the Washington Post, PBS NewsHour, and VICE. Their work has been exhibited at Project Row Houses, the Philadelphia Museum of Art, Virginia Museum of Fine Art, and galleries across the country. Beyond traditional art spaces, their work has been seen and engaged by tens of thousands of people through exhibits in legal clinics, parades, church basements, conferences, City Halls, state legislatures, and city streets. 
They currently co-direct the People's Paper Co-op and Reentry Think Tank in Philadelphia, PA, and Mark founded and co-directs the Performing Statistics project and the covid-19 rapid response project Fill The Walls With Hope, Rage, Resources, and Dreams.
We Exist in Multitudes
The Writers Room TRIPOD writers-in-residence contributors include Hasciya Austin, Brenda Bailey, Patricia Burton, Rosalyn Cliett, Merle Curran-Ackert, Barbara Dale, Dejah Jade, Jordan McCullough, Carol Richardson McCullough, Darrell Omo-Lamai, Victoria Huggins Peurifoy,Chanda Rice, Mabedi Sennanyana, and Devin Welsh.
In July of 2019, artists Courtney Bowles and Mark Strandquist collaborated with the TRIPOD program (an ongoing photography and writing program of Writers Room at Drexel connecting high school students, YouthBuild Philadelphia students, Drexel students, and older community members) to create a series of projects inspired by the mural Boy with the Raised Arm. 
In response to the prompt,"What do you stand for?" the intergenerational group of collaborators used photography, performance, and poetry to share their collective visions of the past, present, and future. 
A culminating celebratory event was held at the Wiota Street Community Garden, just feet from the mural, where a collaborative photo banner was displayed; food, stories, and hugs were shared; and participants read their poetry and dreams for the neighborhood.
See all the "We Exist in Multitudes" responses in the Writers Room Anthology 6.

"Being & Becoming" by Eva Wǒ (2020)
Eva Wǒ is a multidisciplinary visual artist from New Mexico and based in Philadelphia since 2010. Wǒ uses photography, collage, and moving image to cast spells of vibrant queer liberation somewhere between fantasy and futurism. She is a recipient of the Leeway Transformation Award '17-18, is a CFEVA Visual Artist Fellow '19-21, Elsewhere Exchange Fellow '19, and 40th Street AIR '16-17. Currently she produces Hot Bits, a traveling, immersive creative placemaking series that utilizes pornography, performance, and digital media as social practice to transform spaces into momentary dimensions of uncensored queer liberation for kinky, sex-positive QTBIPoC and sex workers.
Being & Becoming is a collection of interviews regarding queer visibility, representation, and authorship in media; accompanied by a Care Guide for white and non-Black PoC artists who are committed to the work of dismantling white supremacy and transphobia in their work. Post-Supremacy Portal is a vision of Philly after dismantling all cultures of violence and finally achieving a self-determined and reciprocal coexistence. The project serves as a call to use critical, intersectional politics in creating systems of radical support for QTBIPoC, shapeshifting to evade commodification, and embodying a constant state of becoming in our work and relationships.
Special Thanks:
Ash Richards, Irit Reinheimer, Althea Baird, Daniel Tucker, Carol Zou, Jenna Peters-Golden, Katia Perea, Aislinn Pentecost-Farren, John Anderies (William Way), Ann Northrup, Mx. Abdul-Aliy Muhammed, Alex Smith, Andrea Jácome, Arazel Thalez, Chaska Sofia, Cxoda Hu, Darius McLean, Dev and Zuri Love, Sir Eli Ra and Bryan Oliver Green, Fortune (Andrienne Palchick, Heidi Ratanavanich, and Connie Yu), Heart Byrne and Harlow Figa, Icon Ebony Fierce, Ixa, Juliana Reyes, Kira Rodriguez, Malachi Lily, Manny Figeuroa, Mia Secreto, Moor Mother, Noemi Charlotte Thieves, ociele hawkins, Raani Begum, Shoog McDaniel, Tristan "TK" Morton, Wit López, and Zuri Love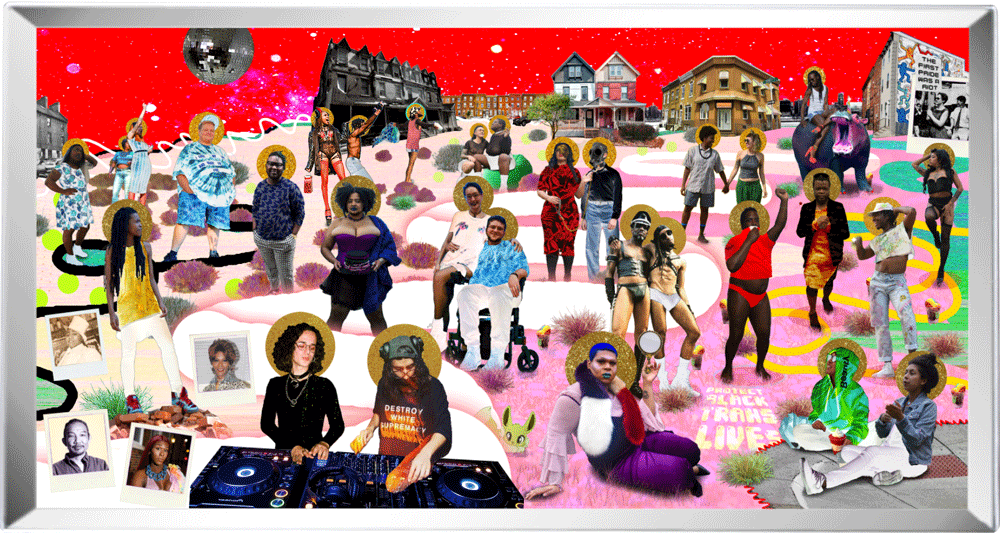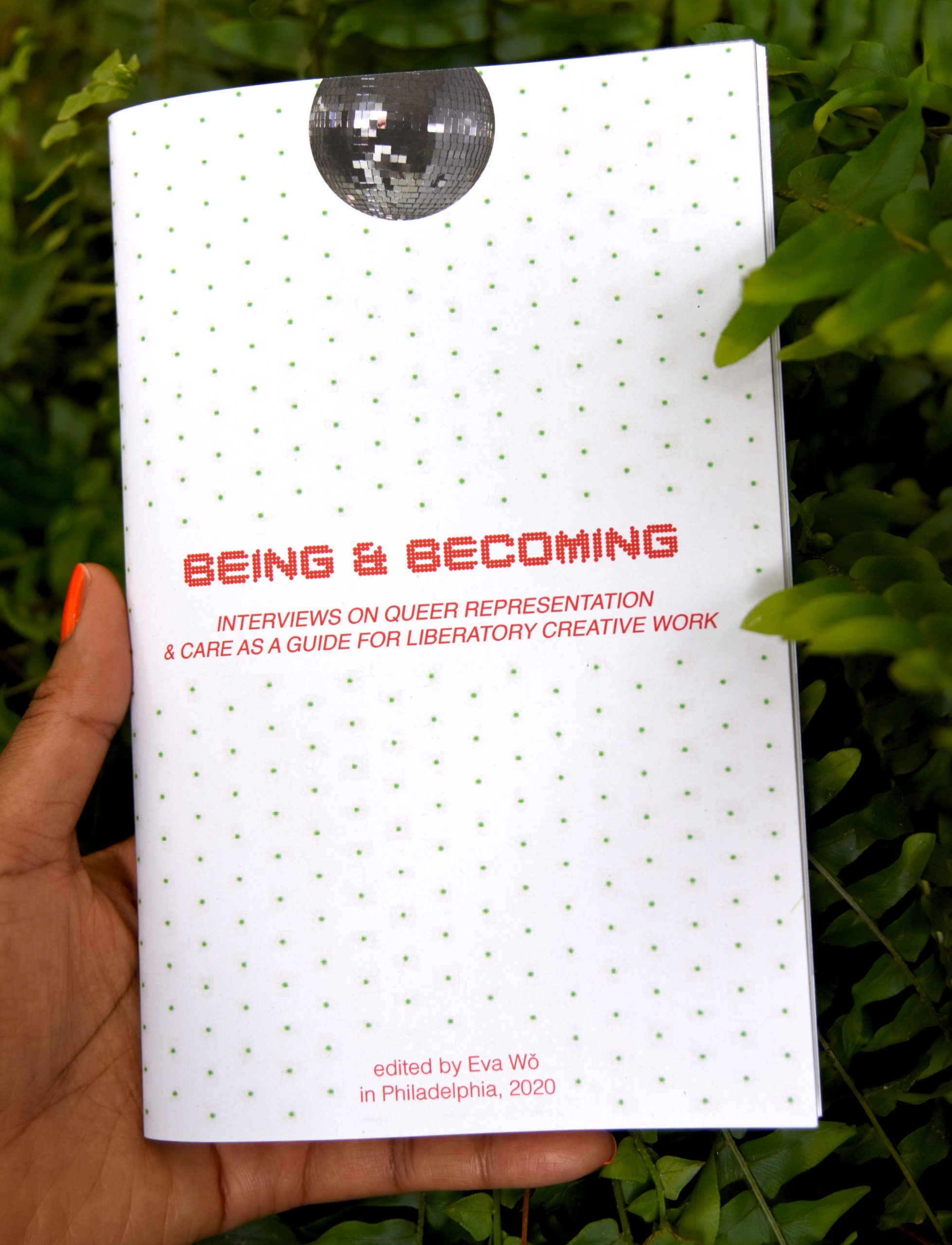 "Black Family Reunion" by Marie Alarcon (2020)
Marie Alarcon is an experimental video artist trained in documentary filmmaking. Alarcon has screened at festivals and galleries including Blackstar Film Festival, Harlem International Film Festival, and the SF Urban Film Fest. Their practice is centered around personal, historical, and environmental landscapes that rely on cinema and its capacity as collective "rememory". Much of their work is created through artist residencies, including Elsewhere, Greensboro, SensLab, Montreal, Good Hart, MI, Neighborhood Time Exchange, Philadelphia, and Icebox x Leeway.
Filmmaker and photographer Marie Alarcon made a new online work responding to "Black Family Reunion" by Dietrich Adonis and Jane Golden (1988)/Ernel Martinez (Restored 2008) at 4020 Parkside Ave. The work was screened in October 2020 at Mamie & Weaver's Ultra at the intersection of Ogden and Holly street* in the Belmont neighborhood. Black Family Reunion is a short documentary about longevity and the right to return in the West Philadelphia neighborhoods historically known as the Bottom. Current and former residents from the Top of the Bottom to the Black Bottom discuss displacement, shifting community dynamics, and nostalgia, as well as the desire to escape and the desire to reclaim.
Special Thanks: Charles Hall, Ms. Tina, Ms. Sandra Aminata Calhoun, Brother Gerald Bolling, John Morrison & Deadverse Records, Theodore Harris, Cathy Harris
"Puerto Rican Statue of Liberty" by Dietrich Adonis, Carlos Vasquez, Glenn Hill, Jane Golden (1984)
Learn more about the original mural
Visit the activation record on the PAA artwork detail page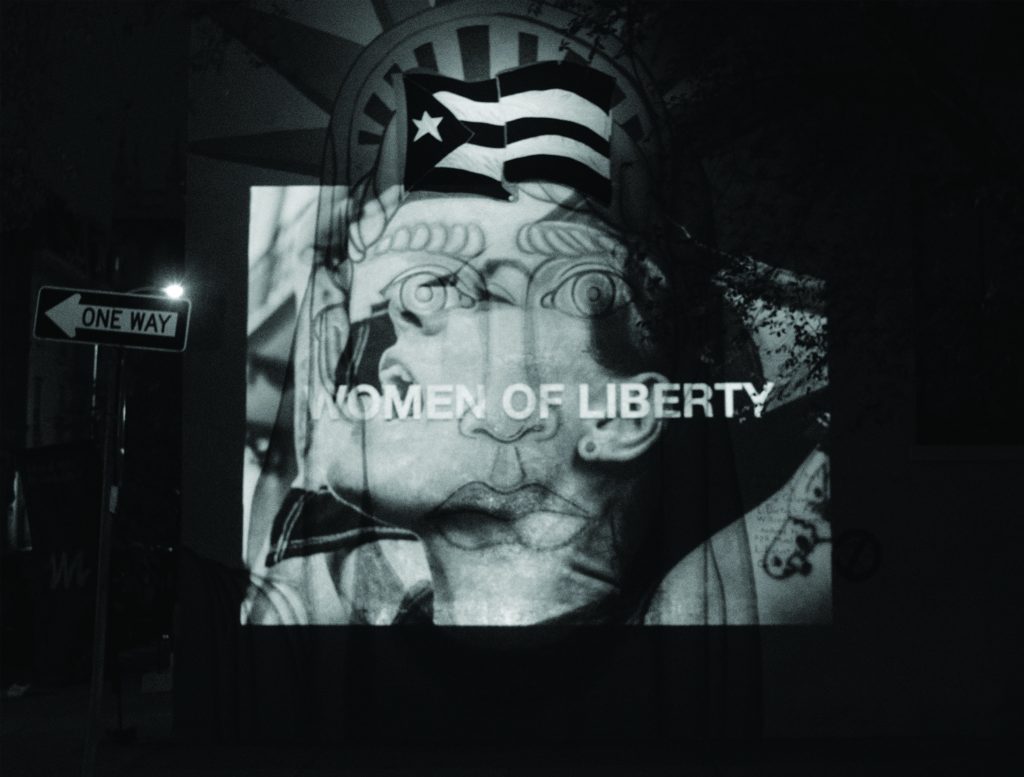 "Women of Liberty" by 22 Studio (Nasheli Juliana Ortiz, Marién Vélez and Lorna Mulero) (2020)
22 studio is a transdisciplinary design practice co-founded and co-directed by Marién Vélez and Nasheli Ortiz. Our intention is to tackle relevant problems in communities and cities through design processes. We work with architectural, scenic and social lighting design; fashion design, stage design and public art.22 studio is a transdisciplinary design practice co-founded and co-directed by Marién Vélez and Nasheli Ortiz. Our intention is to tackle relevant problems in communities and cities through design processes. We work with architectural, scenic and social lighting design; fashion design, stage design and public art.
Women of Liberty is a site-specific intervention of the mural at N 17th St and Mt Vernon St corner in Philadelphia. The week-long activation at the Mural location in November 2019 included a temporary revision of the flag and a series of projections.The mural captures the moment when a group of people hung the Puerto Rican flag on the Statue of Liberty in demand of independence for the island. By projecting faces of women onto the Statue of Liberty's mural face the intervention explores similarities in the fight against Puerto Rico's colonialism and the fight for women's rights.
Special Thanks: Daniel Tucker, Mural Arts Crew – especially Zambia and Carlos for installation of the flag and Donavan for his assistance day of the event. Thank You Partners: Justino Navarro, Spring Garden CDC, Spring Garden Civic Association, Patrick Boyle, President Spring Garden Civic Association, Willows at Mount Vernon and their residents, and Gilberto Gonzalez for your support.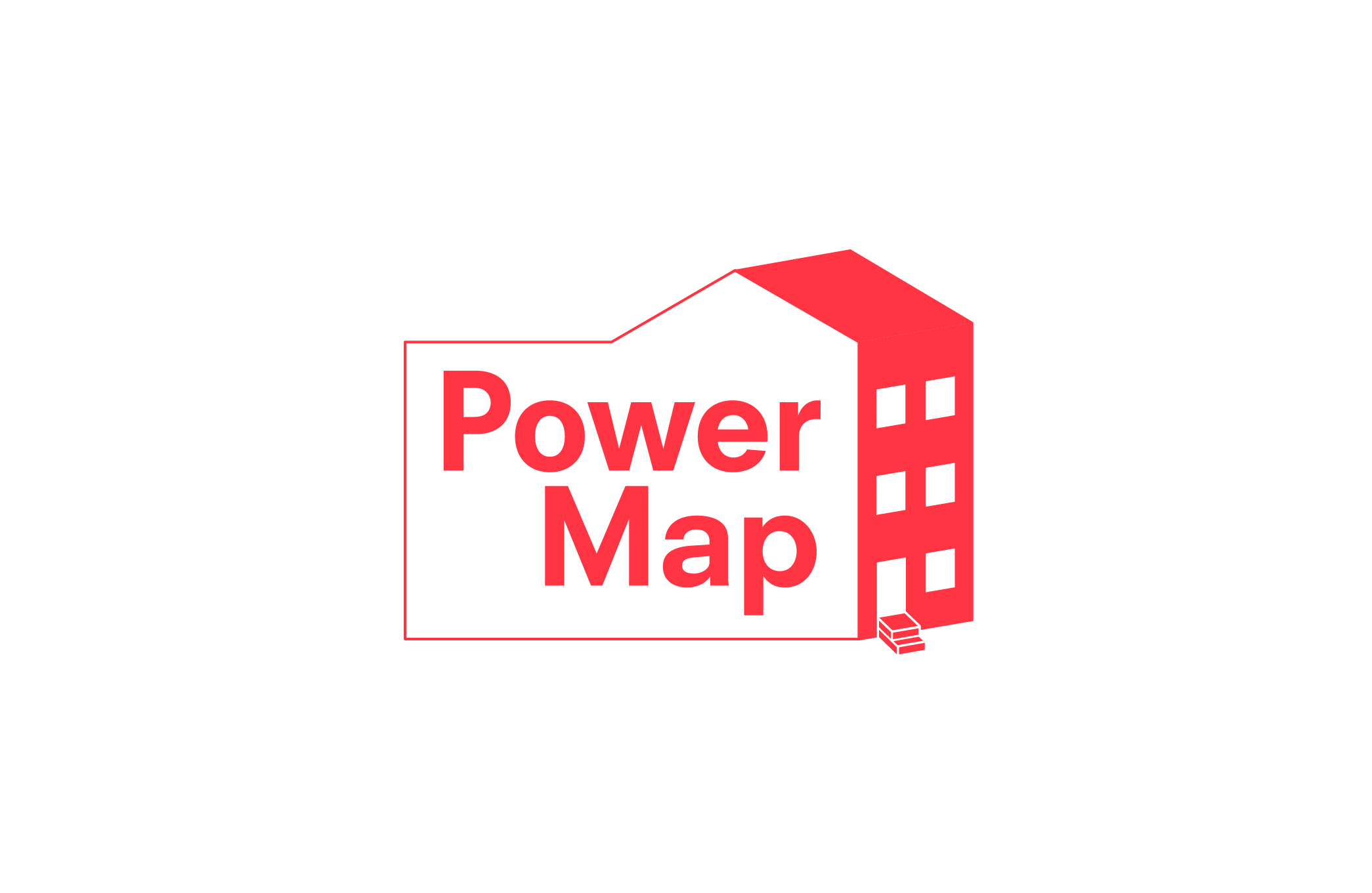 CREDITS
Curator: Daniel Tucker
Project Manager: Kathy Poole
Print Design and logo identity for Power Map: Rosten Woo
Web Gallery: Lori Goldstein
Funders: Nick & Dee Adams City of Philadelphia
Photographs of original murals from Jim Prigoff Collection
Thank you to the following people – Mural Arts: Genny Boccardo-Dubey, Victoria Boyer, James Burns, Caitlin Butler, Caitlin Chase, Noni Clemens, Emily Cooper-Moore, Jane Golden, Cathy Harris, Kate Jacobi, Amy Johnston, Norah Langweiler, Ernel Martinez, Magda Martinez, Jamera McNeil, David McShane, Aislinn Pentecost-Farren, Kathy Poole, Netanel Portier, Shira Walinsky, Steve Weinik, and Corin Wilson
Thank you also to Leah Appleton, Dino Pelliccia, Maori Holmes, Ezra Nepon Berkely, Sharon Hayes, Karyn Oliver, Irit Reinheimer, Emily Bunker, Patti Phillips, Joanna Jenkins, Cecelia Fitzgibbon, Lori Goldstein (from the Public Art Archive), Eric Trianafillou, Josh MacPhee, Rebecca Zorach, and Alina Josan (from the Free Library of Philadelphia).